Tennis - ATP World Tour
Headline News - powered by FeedBurner
A LOOK BACK
Internationaux de Tennis de Vendee (Mouilleron-le-Captif, France): Few players aged 21 & under have enjoyed a season like this. Mikael Ymer is making a significant statement on the ATP Challenger Tour and the #NextGenATP Swede has yet another crown to add to his trophy case.
Ymer notched a fourth title of 2019, sprinting to the finish line on the indoor hard courts of Mouilleron-le-Captif. He defeated home hope Mathias Bourgue 6-1, 6-4 on Sunday, prevailing in front of 3,078 fans (15,981 spectator total for the week). The 21-year-old is in the midst of a staggering stretch, extending his win streak to 10 straight after going back-to-back on French soil. He was also victorious at the Open d'Orleans two weeks ago.
This is becoming a familiar sight.

Another 🏆 lift for @MikaelYmer, the fourth of the year for the 🇸🇪. Champion in Mouilleron-le-Captif. pic.twitter.com/kUhQZiMJyK

— ATP Challenger Tour (@ATPChallenger) October 13, 2019
"I think I played well from the beginning of the tournament," said Ymer. "I had some tight matches because my opponents had a very good level in the first few stages. I had to get used to the surface, which is a little different here, with the [orange] colour. But once I took my bearings, I felt better and better."
Four titles, 39 match wins and a rise of nearly 200 spots to a career-high No. 75 in the ATP Rankings. That has been Ymer's season thus far. It is a magical breakthrough campaign for the top Swede, who had previously struggled to stay healthy since emerging on the scene as a Wimbledon junior finalist in 2015.
Now, behind a fearless game, predicated on an attacking mentality, Ymer is one of the top stars of the #NextGenATP contingent. Not only is he the youngest to win four titles in a season since Hyeon Chung in 2015, but the Swede's quartet of crowns is tied for the Challenger Tour lead (w/ Berankis) this year.
Ymer is joined by fellow #NextGenATP Emil Ruusuvuori and Jannik Sinner as the emerging talents on the ATP Challenger Tour this year. They have combined for nine titles and 87 match wins.
2019 #NextGenATP Title Leaders

| | | |
| --- | --- | --- |
| Player | Challenger Titles | Tournaments Won |
| Mikael Ymer | 4 | Noumea, Tampere, Orleans, Mouilleron-le-Captif |
| Emil Ruusuvuori | 3 | Fergana, Mallorca, Glasgow |
| Ugo Humbert | 2 | Cherbourg, Istanbul |
| Jannik Sinner | 2 | Bergamo, Lexington |
| Corentin Moutet | 2 | Chennai, Lyon |
Northbay Healthcare Men's Pro Championship (Fairfield, California, USA): One year ago, Christopher O'Connell was sitting outside the Top 1,000 of the ATP Rankings, following an extended absence due to a knee injury. Now, the 25-year-old Aussie is in the midst of a season even he couldn't have imagined.
Having never previously reached a Challenger final entering 2019, O'Connell added a second title on Sunday. Just two months after lifting his maiden trophy on the clay of Cordenons, he secured a first hard-court crown in Fairfield. The Sydney native did not drop a set all week, capped with a 6-4, 6-4 defeat of top seed Steve Johnson. It was his first Top 100 win since 2016.
"I've been playing well all week, so I was just sticking to my routine," said O'Connell. "Thankfully, I was just operating well out there. I've seen [Johnson] a dozen times on TV and I know he has seen my game. I just felt great out there.
"I've had a full year being healthy with no injuries and no needles, so hopefully I can keep that up. I have four tournaments left this year, all in the U.S., so I'm looking forward to it."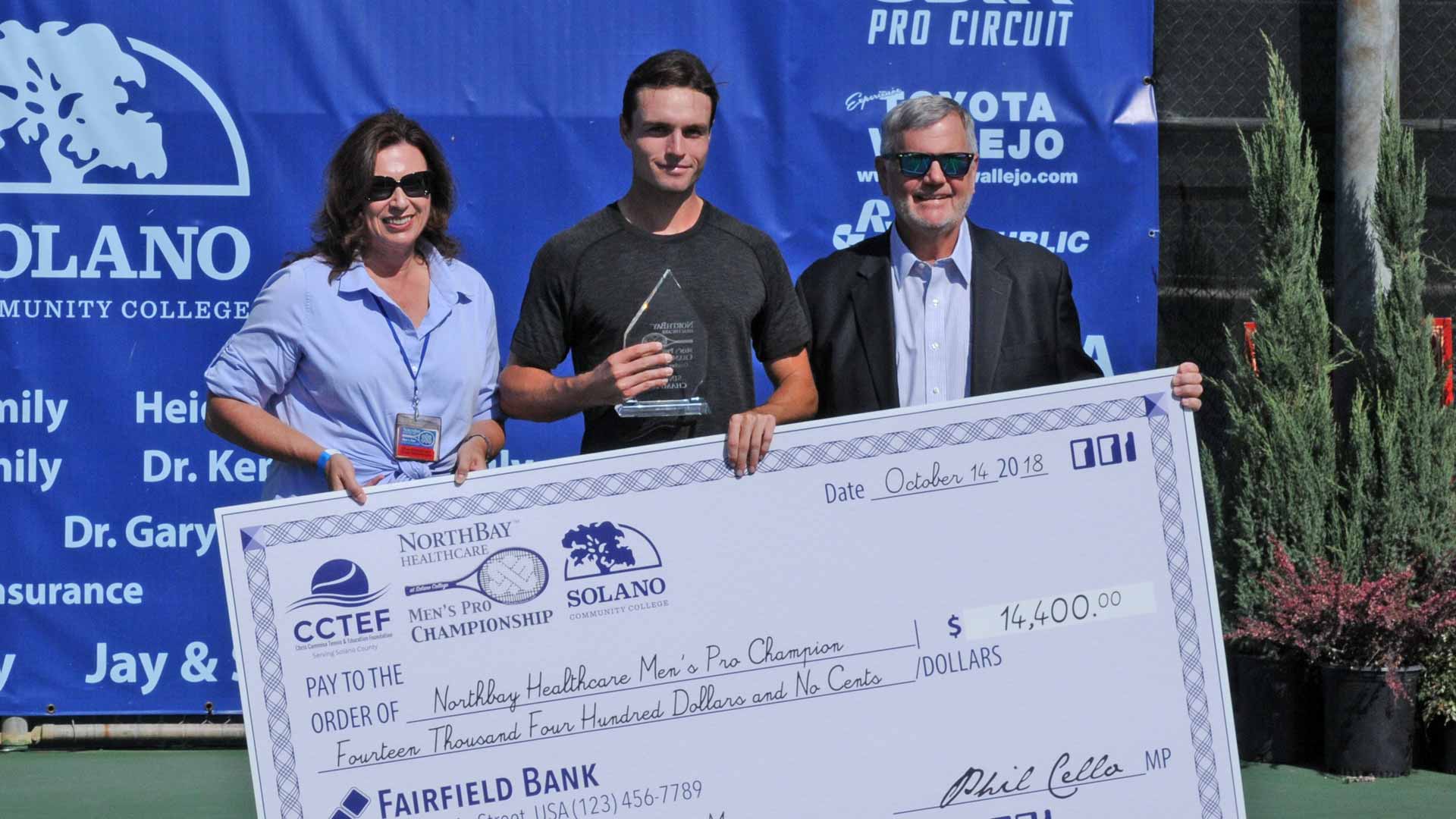 Santo Domingo Open presented by Milex (Santo Domingo, Dominican Republic): When you're in a groove, it can be an imposing sight. Enter Juan Pablo Varillas. The Peruvian secured his second straight title on Sunday in Santo Domingo, extending his win streak to 12 straight with a 6-3, 2-6, 6-2 final victory over Federico Coria.
Varillas, who ended an 11-year title drought for his country a week ago in Campinas, became just the third player from Peru to win multiple crowns. He joins Luis Horna and Ivan Miranda in the club.
Considering that Varillas opened the month of October with just eight match wins on the year, it is remarkable what he is achieving. Twelve wins in 14 days and two shiny pieces of silverware.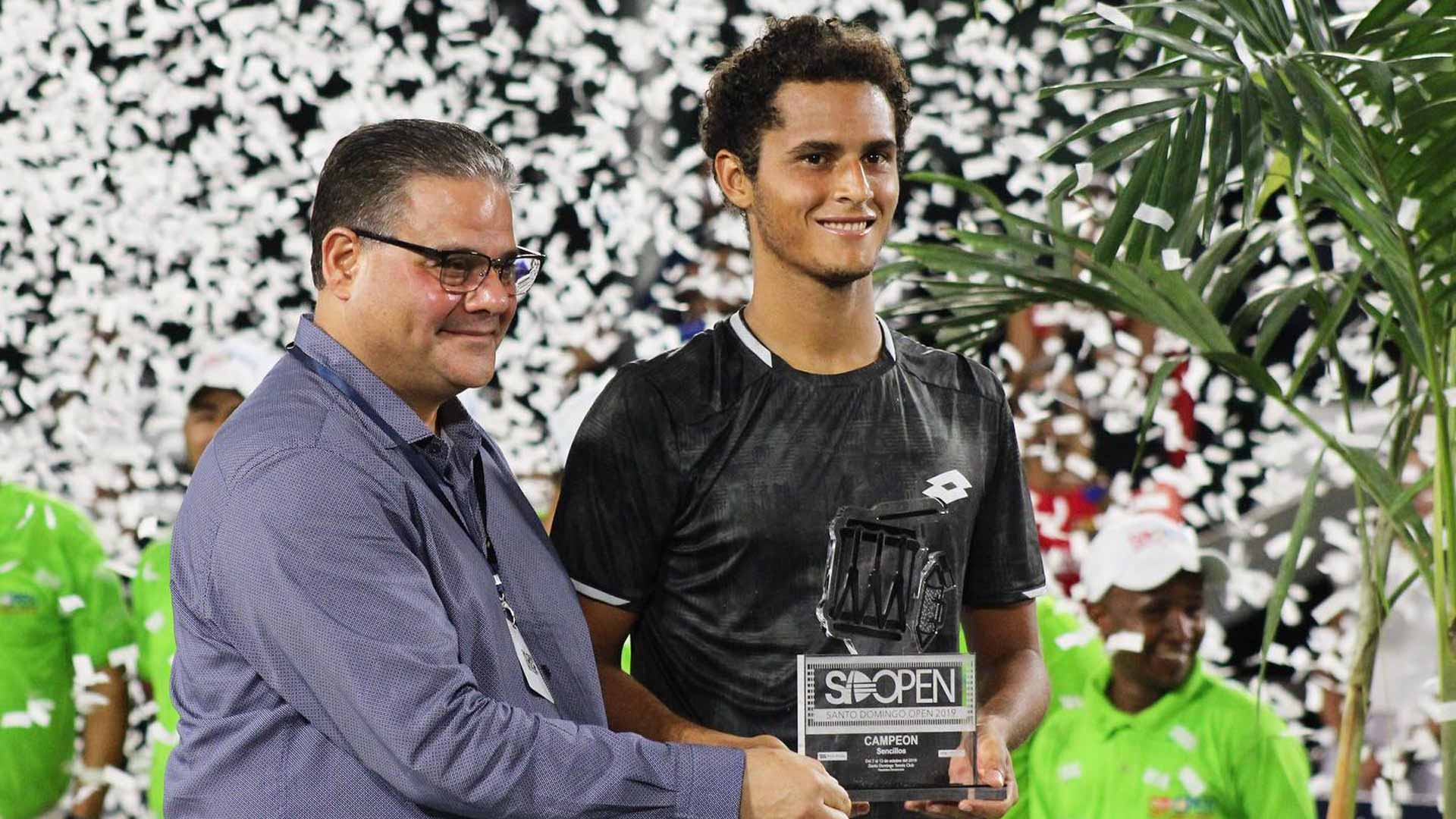 The big storyline of the week was Victor Estrella Burgos' farewell. The greatest player in Dominican history competed in his final tournament, falling in the second round to Thiago Monteiro after beating Marcelo Arevalo.
A LOOK AHEAD
Three tournaments on three continents. The fifth edition of the Las Vegas Tennis Open features Steve Johnson and Taro Daniel as its leading men, with 2017 champion Stefan Kozlov receiving a main draw wild card.
In Ismaning, Germany, reigning champion Filippo Baldi returns as the third seed. Jiri Vesely is the top seed.
And in Ningbo, China, the Challenger 125 event returns for a seventh edition. Prajnesh Gunneswaran leads the pack, with Bradley Klahn and Alejandro Davidovich Fokina rounding out the Top 3 seeds.

From Roger Federer to Marin Cilic, the world's top players have been busy on and off the court. Check out our roundup of the best social media posts from the past week that show what your favourite players have been up to!
Roger Federer asked for recommendations on what to see in Shanghai and was flooded with responses. He obliged one fan by taking a trip to The Bund in the city's waterfront area.
I made it, #selfie time😄 https://t.co/3PUu0AaJ02 pic.twitter.com/6cO8ITQrxu

— Roger Federer (@rogerfederer) October 7, 2019
Daniil Medvedev's coach, Gilles Cervara, wanted to bring the Russian back down to earth after he prevailed at the Rolex Shanghai Masters.
I have a childish coach 😂👍🤔😂 pic.twitter.com/5ms2erB1tT

— Daniil Medvedev (@DaniilMedwed) October 13, 2019
Stefanos Tsitsipas had good reason to smile after defeating Novak Djokovic in the quarter-finals of Shanghai, but was beaming once he learned he had qualified for his debut appearance in the season-ending Nitto ATP Finals.
Thought 🇬🇷 @StefTsitsipas knew he had qualified for the #NittoATPFinals?

The Greek had no idea 😂

🎥: @TennisTV pic.twitter.com/fu8ETvlpiC

— ATP Tour (@atptour) October 11, 2019
Borna Coric enjoyed a good practice with Filip Krajinovic before main draw action got underway in Shanghai.
Friendship goals 💪🏻 pic.twitter.com/iv68Eb0Q9L

— borna coric (@borna_coric) October 5, 2019
Roberto Bautista Agut celebrated the national day of Spain on 12 October.
🇪🇸 Feliz Día de la Fiesta Nacional 🎉#FiestaNacionaldeEspaña #DiadelaHispanidad pic.twitter.com/BcfeeW6RZe

— Roberto BautistaAgut (@BautistaAgut) October 12, 2019
Kevin Anderson shared the good news that he and his wife, Kelsey, had welcomed their first child.
We are so happy to say that Keira O'Neal Anderson joined us on Sept 27th. @KelseyOAnderson, you are amazing. I love you. pic.twitter.com/dkBAMBQ5c4

— Kevin Anderson (@KAndersonATP) October 9, 2019
Meanwhile, Marin Cilic revealed that he will become a dad for the first time next year.
New ride 😁 Excited to share with you all that #teamCilic will be growing. New member joining us in 2020 😊👶🙏👣 pic.twitter.com/m0Qxn6AdQB

— Marin Cilic (@cilic_marin) October 7, 2019
Stan Wawrinka is back in action! The Swiss will compete for the first time since the US Open at this week's European Open in Antwerp.
Back on court, back in Belgium & back to the usual tricks 🎾👌😁🙄#Anvers #StanTheMan #StanTheTrickMan #Belgium #ATP #BackOnCourt #Tennis pic.twitter.com/FfkcnOjUBq

— Stanislas Wawrinka (@stanwawrinka) October 13, 2019
It was one of the more emotional scenes that you will witness on a tennis court. To see how beloved Victor Estrella Burgos is in his native Dominican Republic, look no further than what transpired on Tuesday evening in Santo Domingo.
They came in droves for the final act in the career of their legend. For five years, the Santo Domingo Open - the biggest ATP Challenger Tour event in Latin America - has been one big party at Club La Bocha. Last year, the Dominican faithful waited out rain delays until well past 3am and for this edition they packed the club to support their native son.
I'm not crying, you're crying. 😢

A standing ovation for Victor Estrella Burgos, as the 🇩🇴 bids farewell in front of the home faithful in Santo Domingo. Thanks for the memories, @Vitiestrella80. pic.twitter.com/GydYWSoKwe

— ATP Challenger Tour (@ATPChallenger) October 9, 2019
"The truth is that it was a beautiful experience this week," Estrella told ATPChallengerTour.com. "So many people were there and so many sent me messages. Just a lot of nice memories. It was really special, because I knew it was going to be my last matches. I enjoyed it a lot on the first day and then I lost to Monteiro, but it was something I will never forget. So much emotion. And a lot of people crying, but they were all very happy because they were there for me for my entire career."
The Dominican culture is vibrant and the energy from the crowd reflects that, providing a palpable, rhythmic atmosphere. The movements of the locals echo the traditional merengue dance that is a source of pride.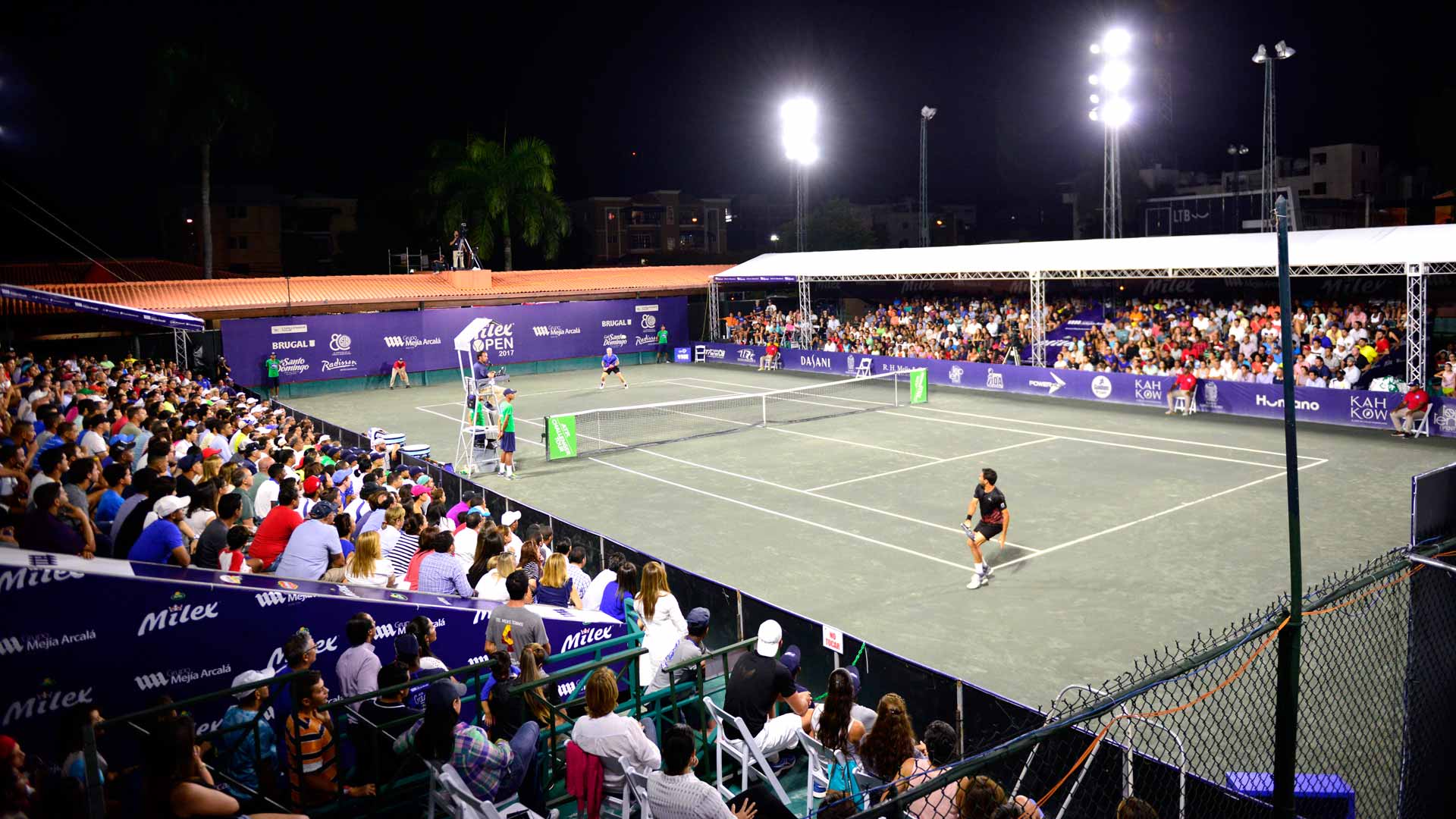 On Monday, they danced, sang and cheered in full throat, as the 2017 champion earned the final match victory of his career. And on Tuesday, they danced some more, screamed even louder and cried as Estrella bade farewell with a defeat to Thiago Monteiro. The tears flowed in the stands and on the court, as the 39-year-old sent a backhand into the net and prompty crouched to the green clay. A deafening roar rained down on Estadio Central, as an emotional Estrella embraced his friends and family and blew kisses to the public. To understand his impact on tennis, sports and culture in the Dominican Republic, this scene paints the perfect picture.
"I was very calm and happy, to be honest. It was a dream to finish my career at home and in front of my people. When I began my career, we didn't have a professional tournament in the Dominican Republic. And now we have a big one in Santo Domingo, where many people could come and see me play and support me. It was really nice to see so many players and so many people I know my whole life. They all traveled to Santo Domingo for my last tournament and that means a lot."
The story of Estrella is one that transcends tennis. His achievements between the lines are plentiful, but it's his impact off the court that sets the Dominican apart and has given him a unique legacy.
The greatest player to hail from the Dominican Republic, and arguably the entire Caribbean region, Estrella has not only been an inspiration in his country. His unyielding passion and exuberance has extended to all corners of the globe, attracting fans wherever he travels with his charisma and inviting personality.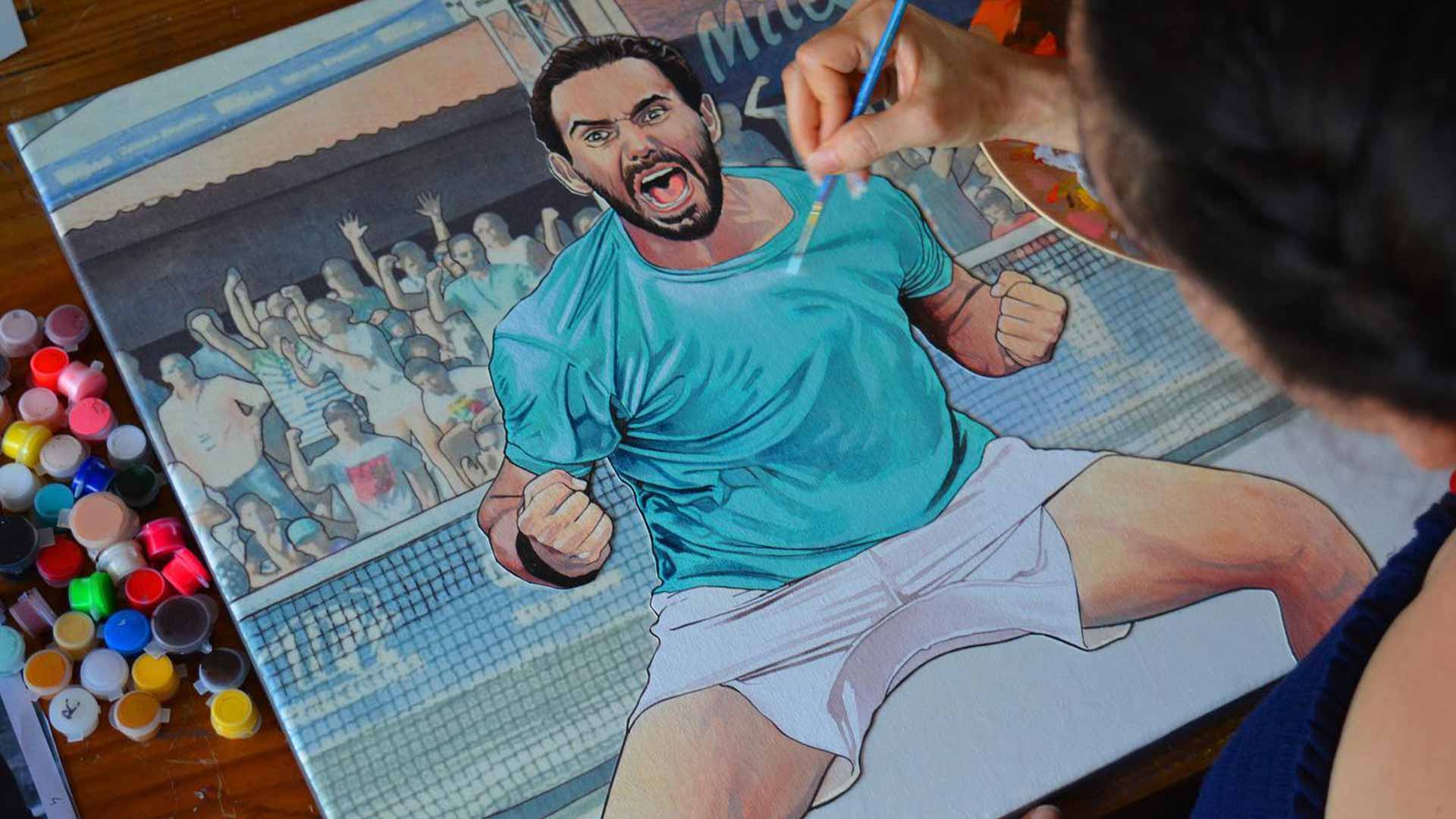 And beyond his attitude and energy, it's his journey that has been so captivating for so many. Standing at just 5'7" and hailing from a small island - one that has baseball at its soul and is unequivocally the core of its culture - the odds were stacked against Estrella. His country never previously had a player feature in the Top 100 of the ATP Rankings, let alone the Top 50, yet that is where he found himself... at the age of 34.
"It is something very special for me to achieve everything that I did with my shorter height, older age and no tennis tradition in my country. I broke down all those barriers and to be among the 50 best players in the world is incredible. To overcome all the adversities makes everything I've achieved more satisfying.
"I also had to overcome financial adversity, not having a coach, coming from a small country... that gives me more pride. All the success that I had on the tour I could accept with humility, understanding all I went through to get there. That was the path I had to travel and without a doubt it fills me with joy."
But he didn't stop there. He also became the second-oldest first-time ATP Tour titlist in the Open Era with his maiden crown in Quito in 2015. In his mid-30s, when most players' careers are winding down, Estrella was just getting started. The King of Quito would claim not one, not two, but three straight titles at the ATP 250 event, pulling off a stunning three-peat.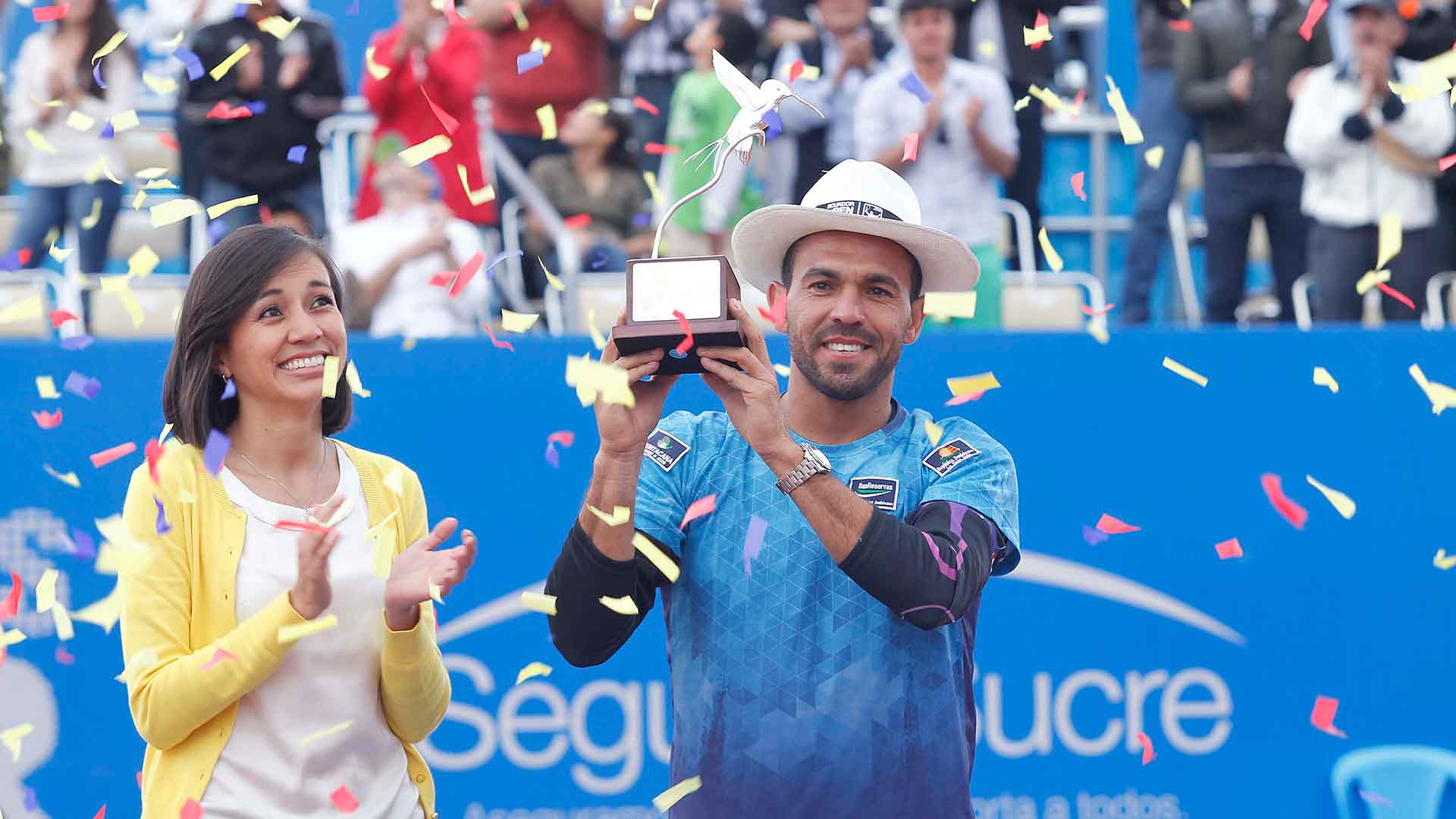 "My first title in Quito was very important for me, as the first ATP tournament I won. And the third was something unforgettable. I beat Ivo Karlovic in the second round when I was match point down against his serve. I managed to win that tournament. Also, in 2017, I won here in Santo Domingo. That was something incredible. I collapsed in joy and winning at home is always special.
"Tennis is growing in the Dominican Republic. We have one of the biggest Challengers now, we also have three Futures in the year, and that is a sign that we are in the right direction. We have junior players who want to play at a professional level and follow in my steps. That is something very positive for tennis here, since previously we had none of that."
This is the same player that turned pro in 2002, but would hang up his racquet soon after, taking a job as a coach in his home country. And, after multiple comeback attempts, it wasn't until 2013 that his professional journey took full flight. Most players' careers don't begin at the age of 33, but Estrella set out to prove that obstacles breed opportunity and can nourish a player's passion.
In 2014, Estrella became the oldest to debut at the US Open, streaking to the third round. He would compete at all four Grand Slams and multiple ATP Masters 1000 events in his career, facing the likes of Rafael Nadal, Stan Wawrinka and David Ferrer.
Estrella played with the same energy and passion that Nadal has been heralded for throughout his career. Like the Spaniard, his dedication to his craft and unrelenting determination has attracted fans throughout the world. Even Nadal has taken notice, making a congratulatory post on Instagram following Estrella's final match.
"It is something innate, something that is in me naturally," Estrella added. "When I enter the court, no matter where I am, I play with great enthusiasm, passion and fight. I run for everything, fight for all the points and behave like a warrior on the court. People like that. They appreciate it.
"When I arrive in any country, people follow me and like to see me play, see how I defend the points and win them. Feeling the support of people from other countries, not just yours, is something that gives you a lot of energy. I received messages from many people saying I was an idol for them."
What's next for Estrella? The Dominican will take a well-deserved break, but he has no plans of leaving tennis.
"I will rest for now, but I plan to continue working in tennis. I want to shape the Dominican Federation, create an academy in the future and develop players there. I hope to pass on what I know to the younger players."