Tennis - ATP World Tour
Headline News - powered by FeedBurner
The Most Improved Player of the Year in the 2019 ATP Awards goes to the player who reached a significantly higher ATP Ranking by year's end and who demonstrated an increasingly improved level of performance through the season. This year's nominees are Felix Auger-Aliassime, Matteo Berrettini, Daniil Medvedev and Stefanos Tsitsipas. The winner, as selected by the players, will be announced later this month.
| | | | |
| --- | --- | --- | --- |
| Player | 2018 Year-End | 2019 Year-End | Career-High (Date) |
| Felix Auger-Aliassime | No. 109 | No. 21 (+88) | No. 17 (October 14) |
| Matteo Berrettini | No. 54 | No. 8 (+46) | No. 8 (November 4) |
| Daniil Medvedev | No. 16 | No. 5 (+11) | No. 4 (September 9) |
| Stefanos Tsitsipas | No. 15 | No. 6 (+9) | No. 5 (August 5) |
Felix Auger-Aliassime
Felix Auger-Aliassime has been making headlines since he was 14, when he became the first player born in the 2000s to earn a position in the ATP Rankings. In 2017, at 17 years, 1 month and 5 days old, he became the fourth-youngest player to crack the Top 200 of the ATP Rankings. In 2019, the Canadian kept making strides – in fact, achieving a career-high ATP Ranking 13 times during the season. From No. 108 at the start of the year, the 18-year-old peaked at No. 17 in October and became the youngest player ranked in the Top 25 since Lleyton Hewitt in 1999.
Auger-Aliassime started his season by playing qualifying matches, but a breakthrough run in February at the Rio Open presented by Claro – where he became the youngest ATP 500 finalist in history (l. to Djere) – lifted him more than 40 spots into the Top 60. The following month, as a qualifier, he became the third-youngest ATP Masters 1000 semi-finalist at the Miami Open presented by Itau, a result that pushed up into the Top 50 at No. 33 in the ATP Rankings.
The Canadian reached another clay-court final in Lyon (l. to Paire) and again in his first grass-court tournament in Stuttgart (l. to Berrettini), making him the youngest three-time ATP Tour finalist since Rafael Nadal in 2004-05. By the US Open, Auger-Aliassime – who shares a birthday with Roger Federer – had earned his place in the Top 20. Though he qualified for the Next Gen ATP Finals, he had to cut his season short in mid-October due to injury, but he still finished the year at No. 21.
"It's been a solid year!" he posted on Instagram. "Truly blessed and thankful to be nominated among these other great players of our sport 🙏🏽 Much love to all of you fans for supporting me throughout the past 11 months♥️ #ATPAwards"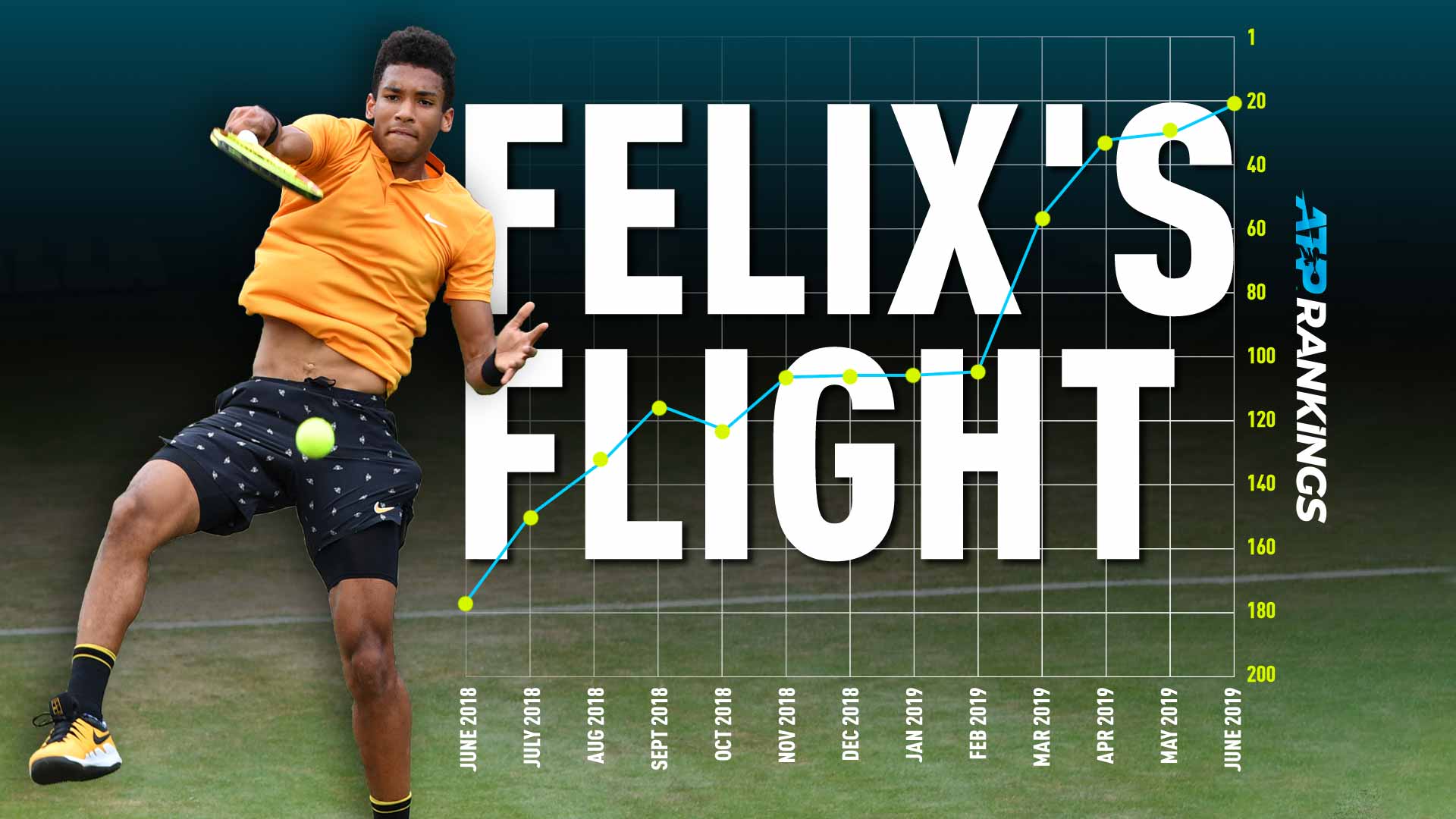 Matteo Berrettini
Even Matteo Berrettini didn't aspire to finish his season at the Nitto ATP Finals. "Being here wasn't a goal at the beginning of the year. Also before the US Open, I didn't expect that. I wasn't thinking about that," he said. "I knew that I was playing good in springtime, like [during the] clay season. It's just crazy that it happened."
In 2018, Berrettini's first full year on the ATP Tour, he compiled a 19-19 record, reached a high of No. 52 and won the Gstaad title. In 2019, the 23-year-old Italian finished with 43 match wins, a career-high No. 8 ATP Ranking and two more titles.
Berrettini started making his move in April, when he reached back-to-back clay-court finals in Budapest (d. Krajinovic) and Munich (l. to Garin) to break into the Top 50. He continued his climb, rising into the Top 20 with a strong grass-court campaign that included the Stuttgart title, the Halle semi-finals and Wimbledon Round of 16 (l. to Federer).
While the Italian was limited to one tournament in the lead to the US Open, he made the most of his appearance in Flushing Meadows, where he reached his first Grand Slam semi-final. With players battling for a place in the top eight in the ATP Race To London, Berrettini advanced to his first ATP Masters 1000 semi-final at the Rolex Shanghai Masters. A semi-final run at the Erste Bank Open lifted him into the Top 10, and Berrettini went on to clinch the final qualification spot at the Nitto ATP Finals during the Rolex Paris Masters. "I'm really proud of myself... It's been an unbelievable season," he said.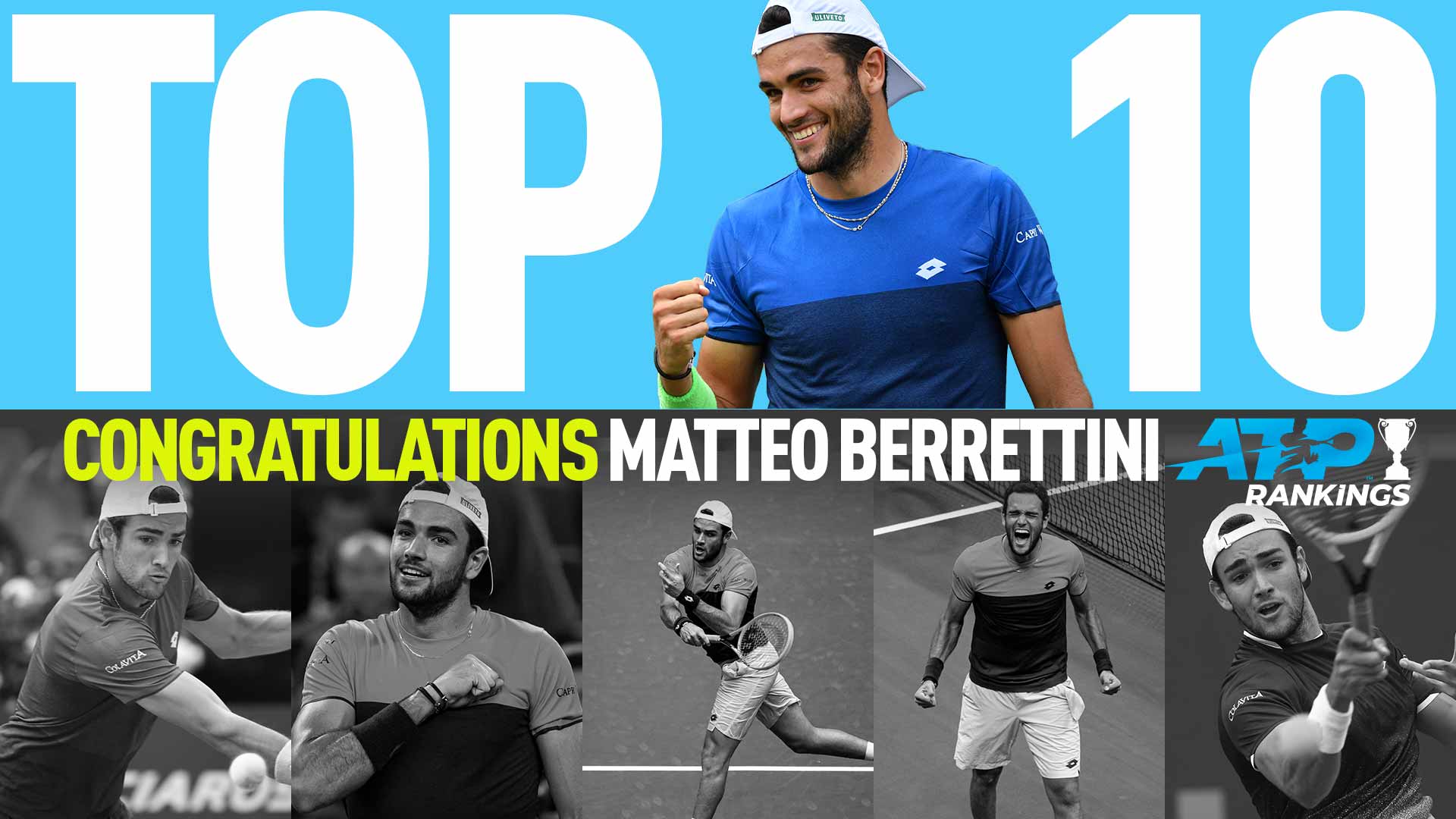 Daniil Medvedev
Daniil Medvedev enjoyed a solid campaign in 2018, winning his first three tour-level titles – including the ATP 500 in Tokyo (d. Nishikori) – and reaching No. 16 in the ATP Rankings by year's end. "It's hard to explain because when I was No. 15, I was good already. Then I wanted to get into the Top 10, which is never easy. I just want to see how far I can go… I know that to be high up in the [ATP Rankings], you have to do a significant effort, but I'm trying to do my best," he said.
Medvedev's best helped him achieve an ATP Tour-leading 59 match wins, 46 hard-court wins and nine final appearances in 2019, in addition to a career-high No. 4 ATP Ranking. He opened the season with a runner-up finish at the Brisbane International, followed by the Sofia Open title, a semi-final run at the Rolex Monte-Carlo Masters (d. Tsitsipas, Djokovic) and a final appearance in Barcelona (l. to Thiem).
Medvedev broke into the Top 10 following Wimbledon, and proceeded to take things to another level. For a three-month stretch, from the end of July through mid-October, the 23-year-old Russian went on a 29-3 tear with six straight finals. After runner-up finishes at the Citi Open (d. Kyrgios) and the Coupe Rogers (l. to Nadal), Medvedev claimed back-to-back Masters 1000 titles at the Western & Southern Open and Rolex Shanghai Masters. In between those triumphs, he impressed at Flushing Meadows as he rallied from two sets down against Nadal in the US Open final before falling in four hours and 51 minutes. He also celebrated his home country title at the St. Petersburg Open.
"My goal is still the same: to be better every day with each training, each tournament [and] to win tournaments," said Medvedev, who qualified for the Nitto ATP Finals for the first time. "It's been working well so far. It's a source of real pleasure."
November 28, 2019
Stefanos Tsitsipas
Only one player to date has won Most Improved Player of the Year in back-to-back seasons: Novak Djokovic in 2006-07. Stefanos Tsitsipas has a chance of becoming the second after going from Next Gen ATP Finals champion in 2018 to Nitto ATP Finals champion in 2019.
The 21-year-old Greek finished the season in the best possible way, and he also opened 2019 with a statement win. At the Australian Open, he knocked out World No. 3 Roger Federer – ATPTour.com's top upset at a major this season – en route to becoming the youngest Grand Slam semi-finalist since Djokovic in 2007. Tsitsipas followed with a pair of ATP 250 titles in Marseille and Estoril and was runner-up at three other tournaments. He ousted No. 2 Rafael Nadal to reach his first ATP Masters 1000 final at the Mutua Madrid Open (l. to Djokovic), and was a finalist at the ATP 500s in Dubai (l. to Federer) and Beijing (l. to Thiem). He additionally recorded his first win over a No. 1 player when he defeated Djokovic in the Rolex Shanghai Masters quarter-finals.
Tsitsipas, who reached a career-high of No. 5 in early August, put together a debut to remember in November at the season finale, where he recorded straight-sets wins over Medvedev, Alexander Zverev and Federer before prevailing against Dominic Thiem 6-7(6), 6-2, 7-6(4) in the final.
"I feel like my game is getting better over time...I'm competing against one of the best players in the world, and the amount of effort and the amount of work I put every day deserves to have an outcome like this," he said following his triumph.
Inches make champions @atptour pic.twitter.com/z3o8AAQQjA

— Stefanos Tsitsipas (@StefTsitsipas) November 17, 2019
Imagine hitting your first serve out wide in the Deuce court and winning a perfect 22 of 22 points. Impressive.
Now take it up a level and do it in the pressure-cooker situation of 15/40 on the big stage at ATP Masters 1000 events. That's something special, and that's exactly what Stan Wawrinka achieved this season.
An Infosys ATP Beyond The Numbers analysis of the year-end Top 20 of the ATP Rankings identified that Stan Wawrinka, Grigor Dimitrov, Fabio Fognini and Daniil Medvedev were all able to save 100 per cent of their break points at 15/40 to a specific first serve target in the Deuce court service box. The data set is comprised of Masters 1000 events in 2019 and the Nitto ATP Finals.
The leading five players out of the year-end Top 20 to save break point at 15/40:
Grigor Dimitrov = 96% (24/25)
Stan Wawrinka = 88% (44/50)
Fabio Fognini = 84.6% (33/39)
Denis Shapovalov = 83.3% (45/54)
Stefanos Tsitsipas = 80.5% (66/82)
Winning 100 Per Cent To A Specific Location
Wawrinka's effort to win 22/22 out wide in the Deuce court was jaw-dropping, but he wasn't the only one to be perfect at a particular serve spot. Below is the breakdown of the four players saving break point from 15/40 to the three first serve locations of wide, body and T.
First Serves Wide at 15/40
Stan Wawrinka = 100% (22/22)
Grigor Dimitrov = 93.3% (14/15)
Denis Shapovalov = 88.2% (15/17)
First Serves Body at 15/40 (minimum of four attempts)
Daniil Medvedev = 100% (5/5)
Matteo Berrettini = 83.3% (5/6)
Fabio Fognini = 75% (3/4)
First Serves T at 15/40
T1. Fabio Fognini = 100% (16/16)
T1. Grigor Dimitrov = 100% (10/10)
3. Dominic Thiem = 88.0% (22/25)
Overall, the year-end Top 20 served almost the same amount out wide as down the T (421-419), but the T delivered the highest win percentage.
First Serve Breakdown at 15/40 - Total and Win Percentage
| | | |
| --- | --- | --- |
| First Serve Direction | Total Serves | Win Percentage |
| Wide | 47.7% (421) | 74.6% |
| Body | 4.8% (42) | 64.3% |
| T | 47.5% (419) | 79.2% |
Sometimes it's about hitting your favourite first-serve location when the pressure meter goes through the roof. Other times it's about hitting it where you opponent doesn't expect it.
Sinner's Statement Season
It was a breakthrough unlike any other. The incredible ascent of Jannik Sinner is arguably one of the biggest storylines on the ATP Challenger Tour in recent history.
From competing in Tunisia and Kazakhstan on the ITF circuit in January to lifting the trophy at the Next Gen ATP Finals in November, Sinner's rapid rise was as awe-inspiring as it was shocking. In just the fourth Challenger appearance of his fledgling career, the Italian lifted the trophy on home soil in Bergamo in February. He was outside the Top 500 at the time and only 17 years of age.
Having chosen to forego a lengthy junior career in order to grit his teeth on the professional circuit, the decision paid dividends. It allowed Sinner to accelerate his maturation and development and that was evident throughout his 2019 campaign.
Sinner's victory in Bergamo not only made him the youngest winner of the year, but the youngest Italian champion ever. Then, his second triumph on the hard courts of Lexington put him in elite company as one of just 11 players aged 17 & under to win multiple titles. That list includes the likes of Rafael Nadal, Novak Djokovic, Juan Martin del Potro and recently Felix Auger-Aliassime. And Sinner was not done there. His campaign would come full circle with a season-ending triumph on home soil in Ortisei, becoming the second-youngest player to win three titles in a calendar year.
Amidst all the achievements and milestones, it was his rise up the ATP Rankings that stands out most. From a year-end position of No. 763 in 2018 to a Top 100 breakthrough to conclude his 2019 season, the Italian soared a total of 685 spots. To establish your game against world-class competition at such a young age, and have the level of sustained success that Sinner did, is purely remarkable. He would finish with a 28-7 record and was one of just four players with a win percentage of .800 or higher.
Nordic NextGen Revolution
The Nordic renaissance is kicking into high gear on the pro circuit. Never before have the northernmost European nations of Norway, Sweden and Finland enjoyed simultaneous success like they are today.
In recent years it has been top Norwegian Casper Ruud leading the charge. And in 2019, Mikael Ymer and Emil Ruusuvuori carried the #NextGenATP mantle for the Nordic nations.
The soaring Swede and the flying Finn were two of the dominant forces on the ATP Challenger Tour this year, with both featuring atop the titles leaderboard alongside James Duckworth and Ricardas Berankis. Ymer's four crowns guided him to a debut appearance at the Next Gen ATP Finals, while 20-year-old Ruusuvuori became the youngest to win as many titles in a season since Hyeon Chung in 2015.
Ymer, who cracked the Top 100 in late September, also finished in fifth among win-loss percentage leaders, posting a 39-10 (.796) record. His dominant finish to the season included back-to-back indoor titles in Orleans and Mouilleron-le-Captif and a first Top 40 win over Jo-Wilfried Tsonga.
Ruusuvuori, meanwhile, will be one to watch in 2020 as he continues his Top 100 push. Up to a career-high No. 124 in the ATP Rankings, he rose nearly 300 spots since the start of the year, when he was competing full-time on the ITF circuit. In fact, it wasn't until April that he played his first Challenger this season. And it didn't take long for him to start a ruthless run of 36 wins, capped with a title on home soil in Helsinki.
That feeling when you win the title in your hometown. 😊🙌@EmilRuusuvuori is the champion at the inaugural Tali Open in Helsinki. The FOURTH title of the year for the 🇫🇮. pic.twitter.com/0FlChPK4IK

— ATP Challenger Tour (@ATPChallenger) November 17, 2019
The Duck's Domination
No one enjoyed more success on the ATP Challenger Tour in 2019 than James Duckworth. One year after Jordan Thompson led the tour in victories and trophies, it was his countryman who achieved the feat to conclude the season.
In the penultimate week of the season, Duckworth capped his campaign with a 49th match win and fourth title, prevailing in Pune. After undergoing a litany of surgeries in recent years, including foot, shoulder and elbow operations, the Aussie is finally back inside the Top 100 of the ATP Rankings for the first time since 2017.
Not only did Duckworth lead the tour with those 49 wins and four pieces of silverware, his rise of 145 spots in the ATP Rankings made him one of the biggest movers to the Top 100. The 27-year-old put in the work, reaching finals and winning titles throughout the world, from Bangkok to Las Vegas and Pune and Playford. The victory in Pune assured him of direct entry into the 2020 Australian Open.
40+ Match Wins & 3+ Titles In 2019

| | | |
| --- | --- | --- |
| Player | Match Wins | Titles |
| James Duckworth | 49 | 4 |
| Andrej Martin | 47 | 3 |
| Gianluca Mager | 43 | 3 |
You Always Remember Your First
A total of 32 players entered the winners' circle for the first time this year. They ranged from 17-year-old Sinner to his 27-year-old countryman Lorenzo Giustino and also included #NextGenATP prospects Ruusuvuori, Ymer, Thiago Seyboth Wild, J.J. Wolf, Alejandro Davidovich Fokina and Yosuke Watanuki. The 19-year-old Seyboth Wild became the youngest winner from Brazil since 2012, while Ruusuvuori was the first from Finland since 2013.
Dominik Koepfer benefitted greatly from his maiden title on the lawns of Ilkley, earning a Wimbledon wild card and then streaking to the Round of 16 at the US Open. Soonwoo Kwon and Kamil Majchrzak also cracked the Top 100 soon after clinching their first titles, with Kwon also reaching the quarter-finals at the ATP Tour stop in Los Cabos and Majchrzak storming to the third round at the US Open.
With @RhyneWilliams in his corner, @DominikKoepfer is soaring towards the Top 100.

But can they keep it together on camera? The struggle is real. pic.twitter.com/CUQ4fYL1FK

— ATP Challenger Tour (@ATPChallenger) August 22, 2019
Emilio Gomez and Federico Coria won back-to-back titles on the clay of Tallahassee and Savannah in April. Gomez is the son of former World No. 4 Andres Gomez, while Coria is the brother of former World No. 3 Guillermo Coria.
In a unique twist, Lucas Pouille won his first Challenger title just months after reaching the Australian Open semi-finals. Seeking confidence and momentum, he returned to the circuit in Bordeaux and became the first player to win his maiden Challenger title after his first ATP Tour crown since Kei Nishikori and Sergiy Stakhovsky both did it in 2008.
The Italian Onslaught
The green, white and red flag flew proudly on many occasions in 2019, as Italy continued to rack up the titles. The European nation led the ATP Challenger Tour with 15 titles from 10 different players this year. Sinner and Gianluca Mager both lifted three trophies, with Stefano Travaglia capturing a pair of crowns. We all know of Sinner's surge, but Mager and Travaglia also impressed with a combined 80 match wins.
The Arizona Tennis Classic in Phoenix provided two especially memorable moments for Italians. Salvatore Caruso earned the upset of the year with a 2-6, 6-3, 6-2 win over World No. 21 David Goffin, while Matteo Berrettini kicked off his journey to the Nitto ATP Finals with a title at the inaugural Challenger. Berrettini became just the fourth player to win a Challenger title en route to qualifying for the season finale since 1995.
Meanwhile, Lorenzo Sonego successfully defended his title on home soil in Genova, leading to a year-end position of No. 52 in the ATP Rankings. He is one of just five players to win on both the ATP Tour and ATP Challenger Tour this year, having also claimed his maiden tour-level crown in Antalya.
The 🇮🇹 renaissance has arrived.

Get to know 17-year-olds Giulio Zeppieri and Lorenzo Musetti, as they continue their #ATPChallenger journeys.

📽 https://t.co/IdCaAmwI23 pic.twitter.com/X0wEyjPTOL

— ATP Challenger Tour (@ATPChallenger) July 21, 2019
On The Comeback Trail: Tsonga, Pospisil & Chung
Working your way back from injury in Challengers can be a difficult process, even for the most established stars on the ATP Tour.
Jo-Wilfried Tsonga admitted that "playing in Challenger tournaments helped me find the reasons why I was playing tennis again". The charismatic Frenchman was forced to find his game after undergoing left knee surgery, entering the season outside the Top 250. A perennial Top 20 player for his entire career, he found himself in uncharted territory, competing in his first Challenger since 2007. Tsonga would lift the trophy on home soil in Cassis, en route to a 230-spot jump in the ATP Rankings to year-end World No. 29.
Fellow former Top 30 stars Vasek Pospisil and Hyeon Chung are also on the comeback trail after lifting trophies in their returns from injury. Pospisil won 16 of 18 matches to close the season, including back-to-back titles in Las Vegas and Charlottesville. He is one year removed from undergoing back surgery to repair a herniated disc. And Chung was forced to the sidelines for six months early in the 2019 season, but returned with a vengeance. The Korean reeled off 13 of 14 matches including a title in Chengdu in his first tournament back.
Tsonga: Challengers Helped Me Find The Reasons I Was Playing Tennis
Challenger Grads Step Up On ATP Tour
After breaking through on the Challenger circuit in 2018, many players did not waste any time in making strides on the ATP Tour. Juan Ignacio Londero, Reilly Opelka, Christian Garin and Hubert Hurkacz all won their maiden titles after dominating on the ATP Challenger Tour a year ago. Felix Auger-Aliassime took the leap as well, peaking at No. 17 in the ATP Rankings. And fellow #NextGenATP stars Miomir Kecmanovic and Casper Ruud both reached their first finals in Antalya and Houston, respectively.
Who will be among this year's graduates as the calendar flips to 2020?
Moving On Up: Challenger Stars Make Seamless Transition
Feel-Good Story Of The Year: Christopher O'Connell
Since 2014, the 25-year-old O'Connell has been battling on the ITF circuit and ATP Challenger Tour to realize his dreams. Many years grinding outside the Top 200 can take its toll on any player. Just last year, the Aussie took up a second job cleaning boats while recovering from a knee injury. But perseverance pays off and that is certainly applicable for O'Connell.
From not having an ATP Ranking to open the 2019 season to sitting at a career-high No. 120 to conclude his campaign, the Sydney native made the most of his opportunities this year. After reaching nine finals on the ITF circuit from March to July, he took the next step and lifted his first Challenger trophy on the clay of Cordenons. And he was not done there, advancing to three more finals and adding another trophy in Fairfield. There, he earned his first Top 100 win in three years, upsetting Steve Johnson in the championship match.
The Unstoppable Tommy Paul
Of all players with at least 30 matches played in 2019, no one had fewer losses than Paul. The American dominated from start to finish, carrying the momentum from his maiden title in Charlottesville to conclude the 2018 season. This year, he posted a staggering 30-5 record and finished in second place among win percentage leaders (.857), only behind Ricardas Berankis (.889).
Behind a mature approach and more determined attitude, the 22-year-old stepped up under pressure. A first clay-court title in Sarasota was followed by victories in New Haven and Tiburon. It was in New Haven that Paul cracked the Top 100 for the first time, eventually peaking at No. 81 in the ATP Rankings.
Giron Saves Six Championship Points In Houston
On the penultimate Sunday of the season, Marcos Giron turned in arguably the most improbable comeback of the year. The American rallied from 1/6 down in the deciding tie-break to stun Ivo Karlovic for the Houston title. He saved SIX match points in the process, including two on the Karlovic serve.
Giron concluded his campaign exactly how it started, having opened the 2019 season with a maiden title in Orlando. The 26-year-old is just shy of the Top 100, jumping to No. 102 in the ATP Rankings.
A Debut For The Ages: 15-Year-Old Carlos Alcaraz
The month of April was one for the kids on the ATP Challenger Tour. In back-to-back weeks, Carlos Alcaraz became the first player born in the year 2003 to win a match (in Alicante) and Italy's Lorenzo Musetti became the first born in 2002 to win a match (in Sophia Antipolis).
In fact, at the ripe age of 15, Alcaraz became the fourth-youngest match winner since 2000. Only Felix Auger-Aliassime, Rafael Nadal and Nikolai Soloviev were younger when they won their maiden match. And the fact that Next Gen ATP Finals champion Jannik Sinner was the Spaniard's first victim makes the occasion even more special.
Alcaraz would go on to reach the third round in Murcia the following week, securing his first Top 200 win, and added a quarter-final finish in Sevilla in September.
Varillas Puts Peru On The Map
Tennis in South America is on the rise. The continent is steadily making progress on the professional scene, with Nicolas Jarry and Cristian Garin bringing Chile back into the spotlight and Hugo Dellien putting Bolivia on the map. In October, it was Peru's turn to enter the fray.
Juan Pablo Varillas secured his nation's first Challenger crown in 11 years with his maiden title on the clay of Campinas. And one week later, he would notch a second title in Santo Domingo, soaring to No. 142 in the ATP Rankings.
Zhang Makes History For China
In 2016, Wu Di lifted China's first ATP Challenger Tour trophy. One year later, Wu Yibing became its first teenage titlist. And last month, Zhang Zhizhen joined his countrymen in securing a slice of history, claiming the first ever all-Chinese final in Shenzhen.
It was a second title for the Shanghai native nicknamed 'ZZZ', having also prevailed in Jinan earlier this year. He is up to a career-high No. 139 in the ATP Rankings - the highest ranking ever earned by a Chinese player.
Purcell & Saville Dominate Doubles Circuit
Playford, Launceston, Zhangjiagang, Anning, Seoul, Binghamton and Traralgon. Seven titles, three continents, one impressive team.
Max Purcell and Luke Saville dominated the doubles circuit in 2019, securing seven trophies and a whopping 41 match wins together. The Aussie pair also appeared in three ATP Tour events together, earning their first match victory on the circuit in Antalya.
20 Years On, Roger Reflects
Two significant 20-year anniversaries arrived in 2019. In April, we reflected on the first Challenger title of former World No. 1 Juan Carlos Ferrero - in Napoli 1999. And in October, it was Roger Federer's turn, celebrating 20 years since his lone trophy lift in Brest, France.
Federer's first professional title was a critical moment in his fledgling career. He dropped one set en route to the Brest crown, defeating Max Mirnyi 7-6(4), 6-3 in the championship.
Victor Bids Farewell
It was one of the more emotional scenes to transpire on a tennis court, as Victor Estrella Burgos said goodbye in Santo Domingo. They came in droves for the final act in the career of their legend. For five years, the Santo Domingo Open - the biggest ATP Challenger Tour event in Latin America - has been one big party at Club La Bocha. And for this edition, the home faithful packed the club to support their native son.
On Monday, they danced, sang and cheered in full throat, as the 2017 champion earned the final match victory of his career. And on Tuesday, they danced some more, screamed even louder and cried as Estrella bade farewell with a defeat to Thiago Monteiro. The tears flowed in the stands and on the court, as the 39-year-old sent a backhand into the net and promptly crouched to the green clay.
Heilbronn, Puerto Vallarta, Vancouver Honoured
It was a party from start to finish, as three tournaments received their 2018 Tournament of the Year awards. The NECKARCUP in Heilbronn, Germany, the Puerto Vallarta Open in Puerto Vallarta, Mexico and the Odlum Brown VanOpen in Vancouver, Canada were all honoured in front of the home fans.
The trio of tournaments held special ceremonies as the ATP presented them with their respective trophies. They were fitting tributes for the three events voted highest by the players.
'Murray Trophy' Makes Debut
It was a special season for the Murray brothers on the ATP Challenger Tour. In late August, Andy Murray appeared in his first Challenger since 2005. In search of more matches and confidence in his comeback from hip surgery, the former World No. 1 competed in Mallorca, Spain.
One month later, the circuit welcomed the 'Murray Trophy' for the first time as Challenger tennis returned to Glasgow, Scotland. Jamie Murray was instrumental in making the dream a reality, not only competing in the doubles, but also taking a hands-on approach in the organisation of the event. His passion and commitment to growing the game and making the tournament a success was evident throughout the week.
Chardy Leads New Era In Pau
Jeremy Chardy kicked off a new era in his hometown of Pau, France. While many former ATP stars have assumed the role of Challenger tournament director over the years, none are still competing on the pro circuit. That is, until Chardy undertook the task of starting a tournament in his hometown.
The Terega Open celebrated its inaugural edition in February, as the World No. 51 oversaw the development, management and organisation of the event. With years of knowledge and experience from competing on the professional circuit, Chardy was well-equipped to meet the needs of the players, while giving back to his hometown and the surrounding region.
Four Tournaments Celebrate 20th Anniversaries
The Challengers in Barletta, Italy; Tallahassee, USA; Fergana, Uzbekistan and Bratislava, Slovakia all celebrated 20 years on the circuit. The tournaments have demonstrated steadfast commitment to growing the game at the Challenger level since the 1990s.