Tennis - ATP World Tour
Headline News - powered by FeedBurner
Rafael Nadal received the Community of Madrid's highest honour, the Grand Cross of the Order of Dos de Mayo, on Thursday. At an event held at the Real Casa de Correos (headquarters of the regional government), the Mallorcan was bestowed with the award that recognises people and institutions whose exemplary behaviour has stood out in their service to the citizenry.
The 20-time Grand Slam champion was emotional at the recognition he received in the Spanish capital. In a season that was defined by the far-reaching COVID-19 pandemic, which has caused 45,000 deaths in Spain, Nadal wanted to send a message of affection in support of the people.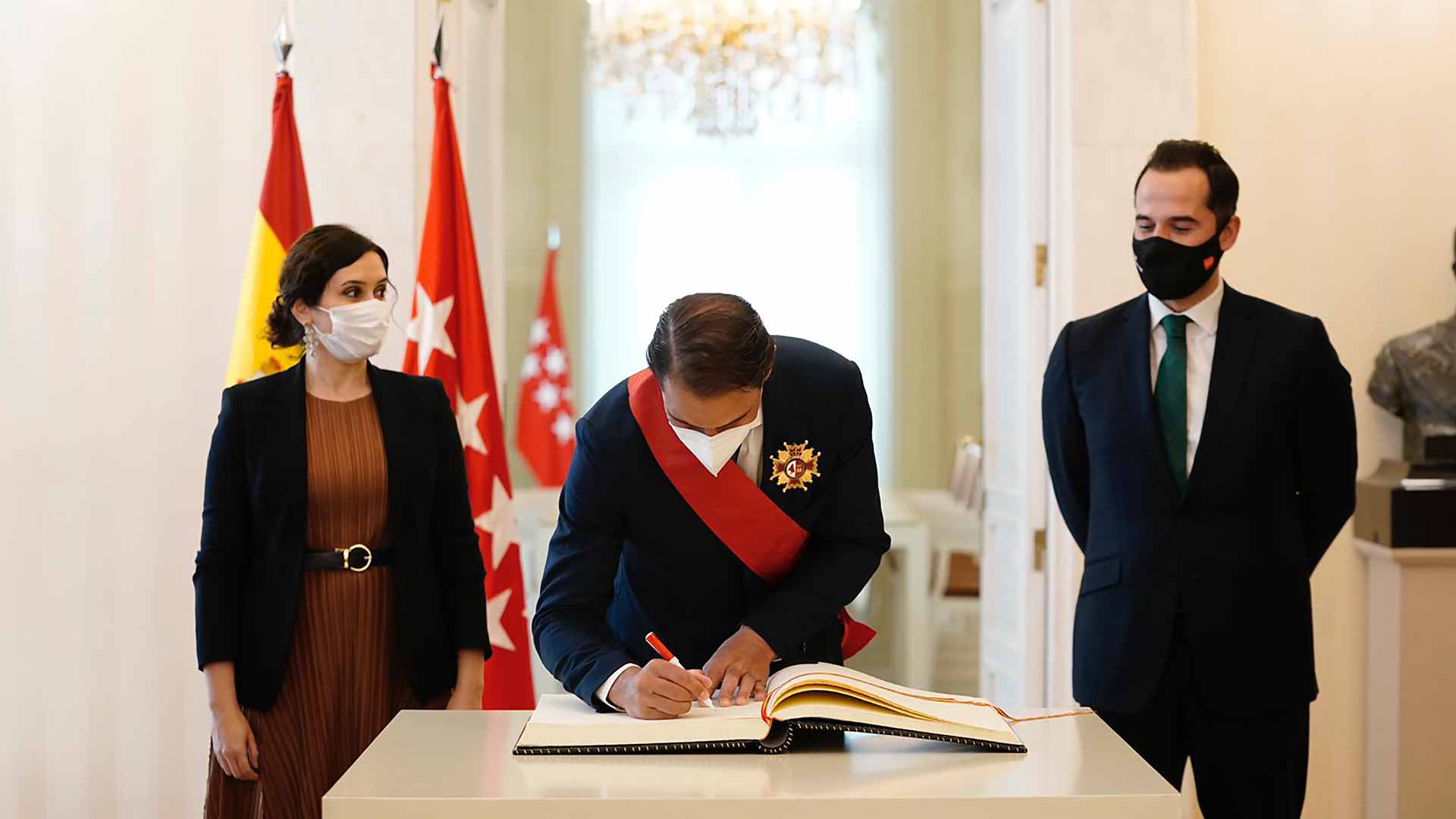 "First of all, I would like to remember the victims of this terrible pandemic, which we are going through, and all their families. I think it affects us all in one way or another, but above all those that have lost loved ones," Nadal highlighted in his speech. "Thank you to all the health workers, particularly in Madrid, a community that was severely affected in the first wave. And also thank you to the forces and State security organisations. I'm convinced that Spain will do what it has always been able to do; to come through tough and difficult circumstances. This time will be no exception."
The Spaniard played a very active role in charity work during the season. Together with basketball player Pau Gasol, he launched the #NuestraMejorVictoria campaign ("Our Best Victory") to encourage donations from Spanish sport for the fight against COVID-19. In an initiative that formed part of the #CruzRojaResponde project ("Red Cross Responds"), over 14 million euros were raised to help citizens in need amid the emergency health crisis.
"Thank you for this recognition, it is a true honour," Nadal said. "I'd like to thank and share this distinction with the citizens of the Community of Madrid, a place that feels very close to my heart and where I always receive special affection. I've enjoyed unforgettable moments, both personal and professional. We all owe a lot to this community, because it has always been there for us.
"I hope that what we are going through now will soon be but a memory and we can go back to sharing and enjoying the things that make us happy soon. Hopefully this will be over as soon as possible. You've all made this an unforgettable day for me."
Regional president Isabel Díaz Ayuso presented the World No. 2 with the medal and she had a few words of recognition on a very special day.
"We bestow you with this highest of honours in recognition of your colossal sporting achievements, but also your extraordinary virtues as a person," said Díaz Ayuso. "You are the best Spanish sportsman of all time, but also a man of great values; determination, perseverance, discipline, sacrifice, respect for the opponent and humility. You have never lost your humanity. You are capable of uniting all Spaniards around you, millions of them have celebrated and shed tears with you under the Spanish flag.
"Thank you for associating us with pride and talent, thanks to you we know that we are a great nation capable of producing extraordinary men and women. Thank you Rafa. In Madrid and in the rest of Spain, we love you."
The Comeback Player of the Year award in the 2020 ATP Awards goes to the player who has overcome injury to re-establish himself as one of the top players on Tour. This year's nominees are Kevin Anderson, Andrey Kuznetsov, Vasek Pospisil and Milos Raonic. The winner, as selected by the players, will be announced later this month.
Player
Career-High
Before Comeback
Lowest Ranking
In 2020
Highest Ranking
In 2020 (Difference)
Kevin Anderson
No. 4
No. 147
No.81 (+66)
Andrey Kuznetsov
No. 39
Unranked
No. 509 (+509)
Vasek Pospisil
No. 25
No. 148
No. 61 (+87)
Milos Raonic
No. 3
No. 37
No. 14 (+23)
Kevin Anderson
The South African player started the 2019 season with a World No. 6 FedEx ATP Ranking, but plummeted to No. 147 after struggling elbow and knee injuries. Anderson was sidelined again in 2020 after undergoing knee surgery in February, and has made his way back to the ATP Top 100 after reaching semi-finals in Vienna and the third round at Roland Garros.
The 34-year-old finished the year ranked No. 81. He played eight tournaments since the ATP Tour's resumption, with the goal of playing a complete schedule in 2021.
"It's an ongoing project given where I'm at, my age and everything, but I feel like my motivation and what I'm trying to still do in this sport, there's still a lot that I want to accomplish," Anderson told press ahead of the Rolex Paris Masters. "I need my knee to give me that opportunity for the next several years, so that's how we go along each week...
"I've set big goals for myself. It's a process to get there, but my motivation is definitely as high as it's ever been."
Andrey Kuznetsov
The 29-year-old Russian's last full competitive season was in 2017, before a lifelong hip injury forced him to walk away from the game. During his time away, the former World No. 39 did everything from dabbling in coaching - he worked with countryman Evgeny Donskoy in 2019 - to doing commentary for Eurosport, as well as getting married and welcoming a son with wife Darya. But he still had more tennis left, and Kuznetsov slowly worked his way back to fitness before embarking on his comeback in 2020 after the ATP Tour's resumption.
He made a big statement at the US Open, reaching the second round in just his second tournament back, where he became the first unranked player to win a Grand Slam match since Nicolas Kiefer at 2007 Wimbledon. Rising as high as No. 509 in the FedEx ATP Rankings as a result, Kuznetsov is looking forward to settling back into the rhythm of the Tour.
"I was pretty sure I would come back. I wasn't sure how long it would take. I thought it might take even longer than three years, that maybe it would take five years," Kuznetsov told ATPTour.com ahead of the US Open. "I was not sure if after five years I would have motivation to come back because so much time would have passed. Somewhere inside I was hoping and I believed I would be able to come back and it was a question of time."
Vasek Pospisil
Pospisil was sidelined during the first half of 2019 and ended the year as World No. 149 after undergoing back surgery to repair a herniated disk. But by the end of the season, the Canadian was already showing flashes of his vintage form, and he kept the momentum going in 2020 as he surged back into the Top 100.
Pospisil reached two ATP Tour finals in Sofia and Montpellier, and made a statement run to the fourth round of the US Open, defeating back-to-back Top 20 players - Roberto Bautista Agut (11) and countryman Milos Raonic (18) - along the way. It was the 30-year-old's best Grand Slam result since his 2015 run to Wimbledon quarter-finals.
"I feel like I'm getting back in the right direction," Pospisil told ATPTour.com in Montpellier. "I haven't been able to go consecutive weeks and months like this for a very long time. I didn't realise it, but I feel like I'm on the right track physically."
"I am not putting pressure on myself over ranking, but I would ultimately like to get back to the Top 30 and a career-high ranking," he added. "If I didn't think I could do that, I don't think I'd still be playing. I am trying not to put too much pressure on myself, but I'm pretty ambitious."
Milos Raonic
Former Wimbledon finalist Raonic was sidelined for a large portion of the 2019 season due to injury, missing Roland Garros and the US Open in a career-long struggle to stay healthy. But he's bounced back higher in 2020, starting the year with a run to the quarter-finals at the Australian Open.
The Canadian also made his mark at the ATP Masters 1000 level, reaching the final in Cincinnati and semi-finals in Paris. Raonic ended the year inside the Top 20 for the seventh time in his career as a result.
"I wish things were different but I have to work my way back up," Raonic said after Melbourne. "I feel like my tennis is there but I have to stay healthy and give myself a chance to compete week in and week out… I think I can find a level above what I had before."
Continuing our review of the 2020 season, today we look at the top two Grand Slam comebacks of the year. Next week, we'll look at the best matches, comebacks and upsets at ATP Tour tournaments.
2. Roger Federer d. Tennys Sandgren, Australian Open, QF, January 28 2020
Harry Houdini was perhaps the best-known magician of all time. His signature trick was to escape what he called a water torture cell, where he was submerged in a tank of water upside down, his ankles locked in shackles. Roger Federer, tennis' great artist and magician, has made some great escapes of his own over the years, perhaps none better than when he beat Tennys Sandgren at the Australian Open in January, saving seven match points in a delightfully entertaining and unpredictable match.
On paper, Federer was a big favourite to beat Sandgren, then ranked No. 100. But Federer was troubled by nagging groin and knee injuries and he struggled at times in five and four set wins over John Millman and Marton Fucsovics prior to his quarter-final matchup with Sandgren, who is named after his Swedish great-great grandfather. By contrast, Sandgren was coming off upset wins over Matteo Berrettini, Sam Querrey, and Fabio Fognini. And he had the best run of his life at the same event, reaching the quarter-finals in 2018, so it wasn't his first big rodeo Down Under.
Federer looked like the man to beat early on, as he took the first set 6-3 in just over 30 minutes. But Roger's game, particularly his backhand, seemed to desert him in the second and third sets, as he sprayed 30 unforced errors to fall behind two sets to one. His frustration boiled over, and at one point, he was given a code violation for an audible obscenity—a rarity for him that he later said was "a bit tough". "It's not like I'm known to throw around words," he said after the match.
Video courtesy Tennis Australia
The raucous, pro-Federer crowd on Rod Laver Arena tried to will Federer back into the match, but it seemed like a lost cause when Sandgren had three match points as the Swiss served at 4-5, 0-40 in the fourth set. But the American, who wore what one writer called a "Cobra Kai" style kit with a sleeveless shirt and green headband, squandered all three chances with errant forehands.
But the muscular American regrouped in the fourth set tie-break, racing out to a 6/3 advantage with a barrage of his trademark powerful serves and forehands. Once again though, the magician from Münchenstein showed why he's one of the sport's all-time greats. After saving two more match points, he gave the crowd what David Foster Wallace called a "Federer moment" at 5/6 down, flicking a deft backhand pass down the line and then boldly following it into the net where he casually smacked a swinging forehand volley into the open court for a winner as though it was as easy as taking some Swiss chocolates from a baby.
Federer saved his seventh match point at 6/7 down and then clinched the tie-break 10/8 as Sandgren overcooked an overhead smash to send the match into a fifth set, which Federer dominated to secure the improbable 6-3 2-6 2-6 7-6(8) 6-3 win.
"I feel a bit bad in a way because I didn't feel like he did anything really wrong," Federer said afterwards. "It's just luck at some point. I've been on the other side, as well. These ones just sting, and they hurt. But I could have blinked at the wrong time and shanked (a shot). That would have been it."
Federer said that he tends to keep the faith until the last ball is struck. "I only believe it once it's over, I shake the hand of the opponent, that it's over, that it's fine," he said.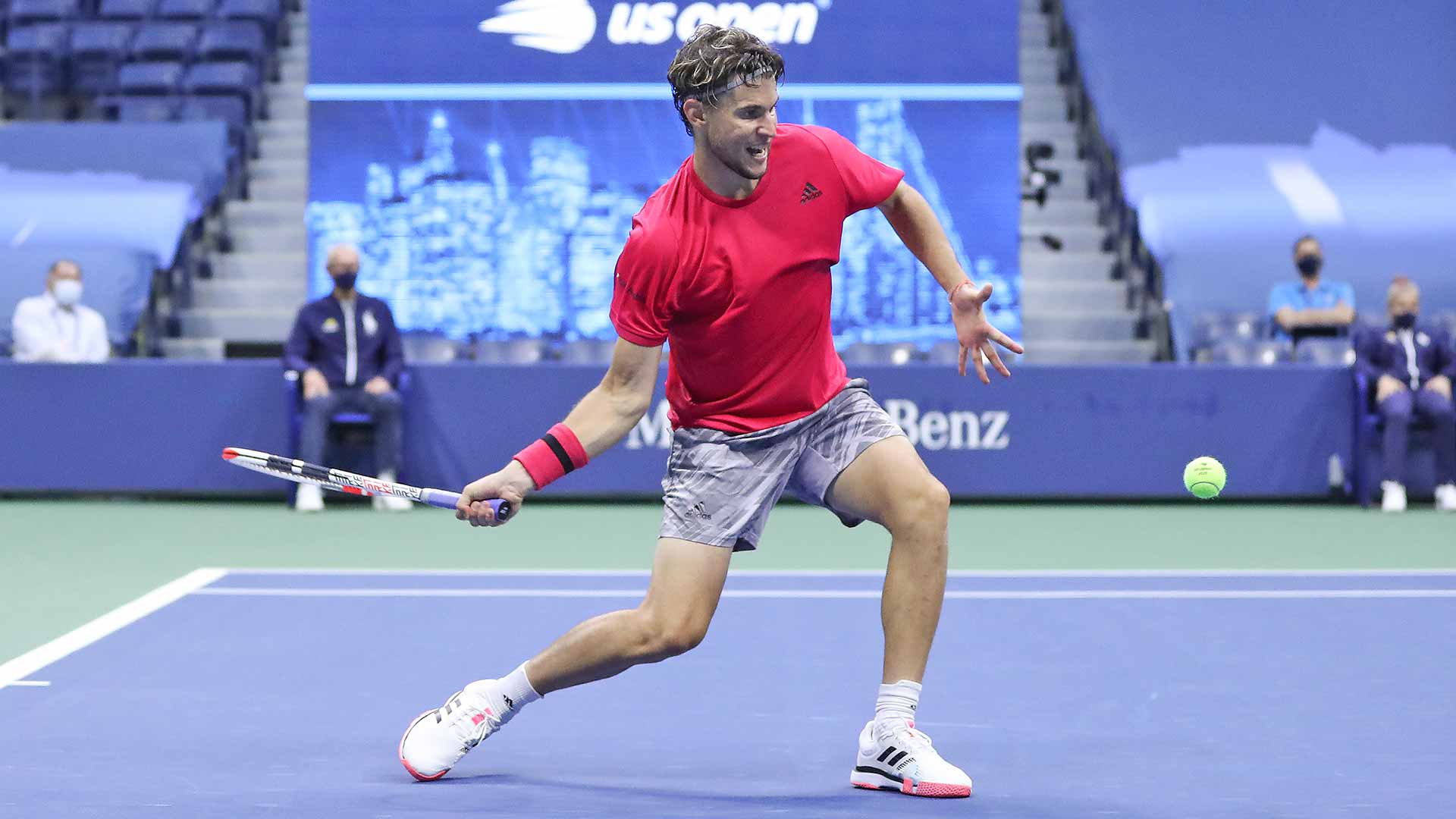 1. Dominic Thiem d. Alexander Zverev, US Open, Final, September 13 2020
It was just one match, and here it claims just one title: best comeback of the year in a Grand Slam tournament. But Dominic Thiem's win over Alexander Zverev in the final of the US Open this year was a match for the ages, one that was much more than just a great comeback. It was a war. It was a test. It was a chess match. At times, it was a comedy, sometimes even a bit of a horror show. It was a struggle to overcome nerves and physical limitations. It was a match you'll tell your grandkids about.
Above all else, it was high drama, filled with scenes of agony, ecstasy, tears, joy, fear and every other human emotion imaginable. After living through this theatre with these men across four hours and one minute, it felt like watching your twin sons play—no one was sure who to root for and even the fans of one man hated to see the other lose.
Coming into the match, Thiem fans had every reason to believe their man would become the first new major champion in six years. The Austrian dropped just one set in six matches leading up to the final, playing a total of 19 sets, compared to 24 sets for Zverev, who had to come from two sets down to beat Pablo Carreno Busta in the semi-finals. But it was the German who looked sharper early in the match, taking the first two sets as Thiem looked out of sorts.
Thiem showed signs of life late in the second set though, forcing Zverev to play five set points before he finally seized the two-set advantage. Early in the third set, the momentum shifted toward the Austrian when Zverev missed a routine volley on a break point. After Thiem won the third and fourth sets, it looked like gute nacht for Zverev.
Boris Becker once said, "the fifth set isn't about tennis, it's about nerves," and his adage was entirely appropriate for this match, as both players struggled to overcome cramps and nerves. Zverev's cramps limited his cannon serve—which at times dropped to around 70 mph— but, in a match full of surprises, he regained momentum against all the odds in the fifth set, as he served for the match at 5-3. But the German couldn't close the sale and the match concluded, appropriately enough, in a tie-break.
At 6/6, Thiem blasted two passing shots right at Zverev, then passed him with a blistering forehand on the third try. A point later, the German sailed a backhand wide and Thiem finally had his first major in a gritty 2-6, 4-6, 6-4, 6-3, 7-6(6) win. The players embraced, with Thiem burying his head in his younger and taller rival's shoulder as if he was hugging a loved one. No one could tell where the sweat ended and the tears began.
"We both deserved it," Thiem said after the match. "I achieved a life goal and a dream I had for many, many years."
Zverev fought back tears during his trophy presentation speech. "It's just tough, you know," he said. "I wish one day that I can bring the trophy home."
Thiem's former coach, Gunther Bresnik, told The New York Times after the match that it was one of the worst finals he ever saw in his life. The level of play did indeed dip at times, as the players battled fatigue, cramps and nerves, but Bresnik seems to have missed the beauty of the match. It was perhaps the most human and relatable final in US Open history, one that anyone who's ever picked up a racquet couldn't take their eyes off of for a moment and will never forget.