Tennis - ATP World Tour
Headline News - powered by FeedBurner
"We won Wimbledon! Can you believe it?," Farah asked Cabal while they were locked in the most emotional embrace of their sporting lives.
"You'd better believe it because we just did it!," answered Cabal, still not completely aware of what he was saying.
The quick exchange between Juan Sebastian Cabal and Robert Farah, moments after defeating Nicolas Mahut and Edouard Roger-Vasselin in a four-hour and 57-minute final, perfectly sums up the Colombians' achievement when they won their first Grand Slam title in July 2019. Neither of them could quite grasp the magnitude of what they had just done on Wimbledon's Centre Court.
"We were in shock," said Cabal. "It was pure joy, ecstasy. It was a dream come true, a goal we had been pursuing for a long time. But in that moment, when we did it, we didn't really understand the impact of our achievement."
With a backhand cross-court volley, Farah sealed a 6-7(5), 7-6(5), 7-6(6), 6-7(5), 6-3 victory that made the pair the first Colombian team to win a Grand Slam men's doubles title. After that point, they both fell to the ground. They were both laughing nervously. They got up amid the applause, hugged each other and then asked themselves if what they were experiencing was real.
[COACHES]
Their disbelief came from the fact that they had forged a path through a very demanding draw. The pair had to survive an 11-9 fifth-set in their quarter-final against Jean-Julien Rojer and Horia Tecau. But it was also because they did not think their first Grand Slam title would come at Wimbledon, on their least favourite surface.
"We thought we were more likely to win our first major at Roland Garros, because it's on clay, which suits us best," said Farah.
"But the good result in Paris really gave us a boost for the grass swing," said Cabal. "And winning our first title on the surface in Eastbourne gave us enormous confidence."
Even so, their surprise at fulfilling their dream at SW19 was inevitable. Not only did they win the only Grand Slam event where they had never before made it to the quarter-finals, they also climbed to the top of the FedEx ATP Doubles Team Rankings.
"That made it much more unforgettable. It was a double triumph," said Farah. "That day, for the first time, we achieved both our goals, that's why it will be special for the rest of our careers."
But it would take two days until the impact of their win, particularly in Colombia, would completely sink in.
"I remember that we were at the club until very late, and then we went to our friends' house to celebrate," said Farah. "But the president [of Colombia, Iván Duque] wanted us to be in Bogota on Monday to receive an award so we had to go to the airport early. We didn't have time to celebrate."
[ATP APP]
When they got to Colombia, greeted by a packed crowd, they found more clues as to what they had achieved. A large part of the country — where the most popular sports are football and cycling — had come to a standstill after their achievement.
"When I saw the welcome from the people, I thought 'Wow, what has happened here?' We never imagined that our title could have caused such euphoria in Colombia," said Cabal.
Once they were home, they were finally able to celebrate. But two weeks later they were competing again in Washington, with their ambition intact.
"We are still the same, working just as hard. Winning Wimbledon made us hungry for more titles," said Farah.
They soon qualified for their second successive Nitto ATP Finals, and would later win the US Open, extending their hot streak.
But it was on the lawns of Wimbledon where they sewed the seeds of their greatness.
Goran Ivanisevic needed a wild card just to get into the main draw of 2001 Wimbledon. Fifteen days after the start of play, the three-time finalist (1992, 1994, 1996) completed the most improbable run to the title in tournament history.
Ivanisevic, No. 125 in the FedEx ATP Rankings, had his final with Patrick Rafter pushed to Monday because of rain. It became known as the "People's Monday" as it was played in front of 10,000 fans who queued up for unreserved tickets the night before on a first-come, first-served basis. They brought a boisterous level of energy and enthusiasm that included waving handmade signs, singing during changeovers and chanting both player's names.
In typically demonstrative form, Ivanisevic sat on court, looked up to the sky, screamed and fought back tears — and this was before he won the match. On his fourth championship point, the 29-year-old collapsed to the ground and sobbed after clinching his first Grand Slam title with a 6-3, 3-6, 6-3, 2-6, 9-7 win.
"This is so great, to touch the trophy. I don't even care if I ever win a match in my life again. If I don't want to play, I don't play again. This is it. This is the end of the world," Ivanisevic said. "This is what I was waiting for all my life. I was always second. The people respect me, but second place is not good enough.
"Finally, I am a champion of Wimbledon. I won. This is everything for me. My dreams came true. Whatever I do in my life, wherever I go, I'm always going to be a Wimbledon champion."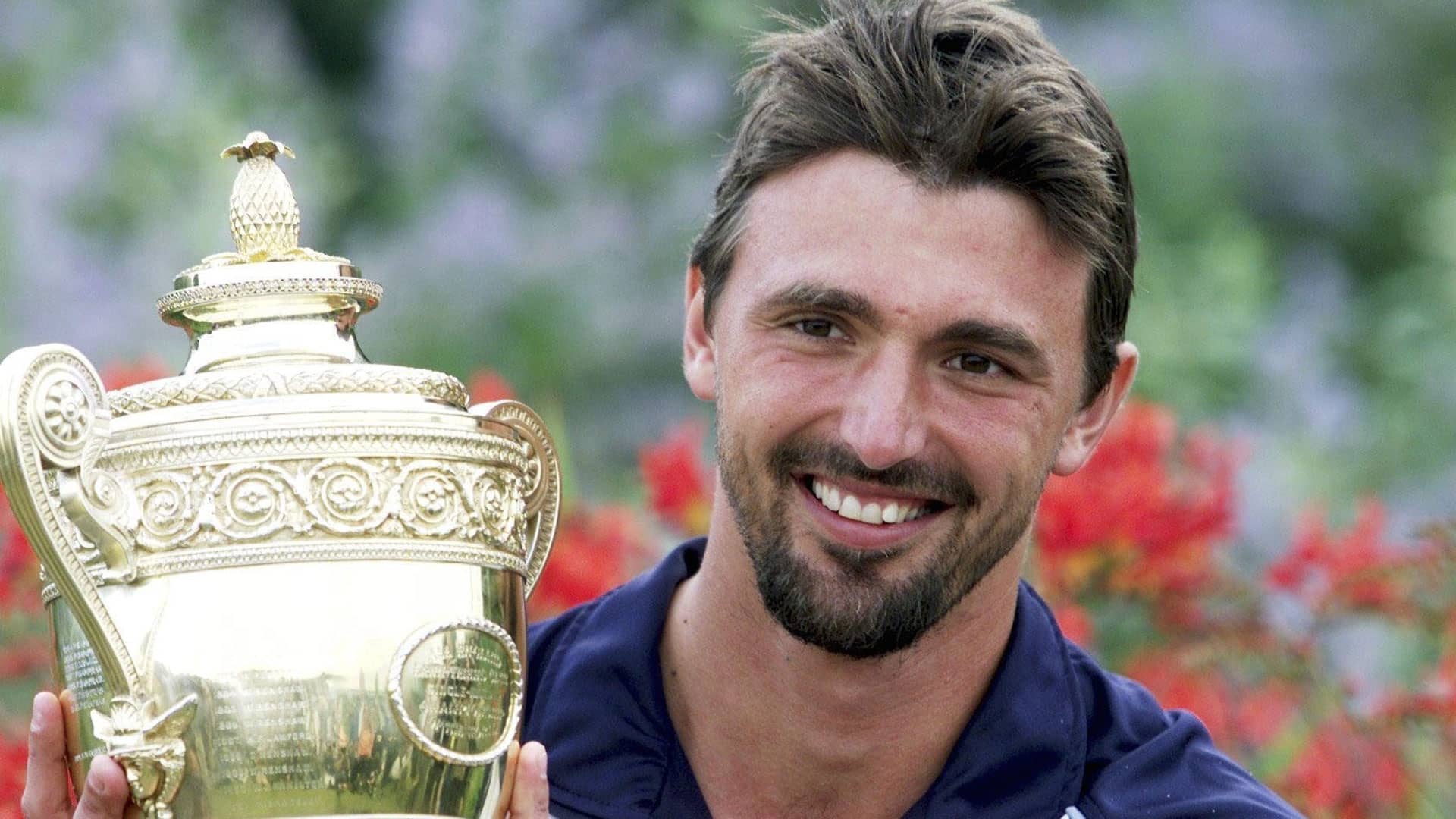 It appeared that Ivanisevic wouldn't get another chance to triumph at the All England Club. A right shoulder injury had prompted a ranking spiral and low moments for the former World No. 2 in the FedEx ATP Rankings, including losing in the first round of qualifying that year at the Australian Open.
But while his Wimbledon run initially started as an outer court spectacle, it quickly gained Centre Court momentum. He beat Marat Safin in the quarter-finals and Tim Henman in the semi-finals after coming within two points of defeat against the Brit.
Meanwhile, Rafter sought his own moment of vindication. The Aussie admitted that his loss in the previous year's final to Pete Sampras had been eating away at him for 12 months. Rafter also came within two points of losing his semi-final against Andre Agassi before clawing back to prevail 8-6 in the fifth set.
After Rafter and Ivanisevic delivered four sets of high-quality tennis, the tension was palpable for both the players and crowd as the match moved deep into the decider. Ivanisevic went down 6-7, 15/30, but found big serves when he needed them to hold. The tension was too much for Rafter in the next game and he spun in a soft second serve on break point that the Croatian smacked for a winner.
Ivanisevic reached match point at 8-7, but missed a second serve by three feet. His second championship point also sparked a wild double fault and collective groan from the crowd. A third attempt came and went after Rafter produced a perfect lob winner, prompting a wry smile from the Croatian. But on his fourth try, Ivanisevic found a big serve and Rafter hit a return into the middle of the net.
"I don't know if Wimbledon has seen anything like that. I don't know if they will again… It was just electric," Rafter said. "He had a lot of support. The Aussies that were there were great. It's what we play for. This is what it's all about. It was so much fun."
Rafter only played a handful of tournaments after his heartbreaking loss before retiring at the end of 2001. Meanwhile, Ivanisevic's shoulder struggles ensured that Wimbledon would remain his final tour-level title. He fittingly retired at the event in 2004, but made it clear that his 2001 triumph erased any chance of regret.
"It's an unsolved mystery how I won," Ivanisevic said to CNN. "It was written somewhere that it was my time. Why do it easy if you can do it the hard way?"
What is the greatest match of all time? Every era has enjoyed different milestones, records and unforgettable moments, making it nearly impossible to choose one match above the rest. However, there is no doubt that the final between Rafael Nadal and Roger Federer at 2008 Wimbledon holds a special place in the history of this sport.
"The standard was so high, but it's difficult to compare different eras," Francis Roig, Rafael Nadal's coach, told ATPTour.com. "It was so exciting, really wonderful. If it's not the best match in terms of tennis that you could see, in terms of excitement, it's surely one of the best in history for everything it had: the time it finished, the flashes, the break, the match points."
Any fan who watched this match would agree with Roig's assessment. Everything that happened in the cathedral of tennis on 6 July 2008 is now part of legend.
The Spaniard was facing the No. 1 player in the FedEx ATP Rankings and defending champion for the third consecutive time in a Wimbledon final. The result had come out in favour of the Swiss in the previous two years. But this time it was different. Despite Federer coming close to turning the match around. Nadal won 6-4, 6-4, 6-7(5), 6-7(8), 9-7 after four hours and 48 minutes.
"It was clearly a turning point," Roig said. "Nadal had played in two finals before. He had fewer chances in the first [2006], but I think the second was a lot closer [2007]. They then played a third final and winning it changed things. Beating Federer at Wimbledon, in a final, says it all."
It's a sentiment that Nadal fully agrees with.
"It's one of the best matches of my career, without a doubt," Nadal admitted in a recent report shown on #Vamos. "I had lost two finals. It was a big goal and a dream for me to win Wimbledon. I had two match points, one of them on my serve, and with a mid-court forehand that was comfortable enough to be able to do more. I did the minimum I could, safe, but getting the ball back is not enough against Federer. He produced a spectacular pass and we went to the fifth set."
Roig sees that all-or-nothing fifth set as the key moment of the final. However, Nadal already knew what it was to win a Grand Slam. He had lifted the Coupe des Mousquetaires four times at Roland Garros (2005-08) and Federer was his opponent in the final on three of those occasions. But he had never been so close to winning Wimbledon as he was in the fourth set of the 2008 final.
"When he missed the chance to close out the match and went to the locker room, rather than feeling beaten, he said that he wouldn't lose the match. Roger would have to win it," Roig revealed. "Rafa had a winning attitude and that gave the team peace of mind. It was an important moment. In the end, matches are not over until they are over."
As night fell in London, a forehand from the Swiss that landed in the net gave Nadal the title. Sprawled out across Centre Court, the Mallorcan was finally able to breathe a sigh of relief. The Wimbledon men's singles trophy was his.
"It was a very important achievement," Roig said. "I think it really helped him believe that he could do the great things at Wimbledon that he has shown."
Nadal had already beaten Federer on clay and hard courts, but now he had done it on grass. Besides the significance of that victory, Nadal's coach also believes another match in their ATP Head2Head series was key.
"I think their first match was an important one, when he beat Federer at age 17 in Miami," Roig said. "When you play a player who you theoretically have to beat to become No. 1, and you have a great match and win on the first try, it gives you a lot of confidence so that you believe you can win in the next matches."
This is how Roig remembers one of the greatest stories in the history of tennis, 12 years on from that memorable tie.