Tennis - ATP World Tour
Headline News - powered by FeedBurner
Novak Djokovic is the No. 1 player in the FedEx ATP Rankings and he has won 15 tour-level titles on clay. But even he admitted on Sunday ahead of the Rolex Monte-Carlo Masters that shifting to clay is not seamless.
"I think clay requires a lot of adjustments. The ball bounces irregularly. It's quite unpredictable at times," Djokovic said. "If the courts are not in a perfect state — which is normal if you have rain, wind, different conditions that can affect the condition of the court — then obviously mentally you just have to stay out there. I will use this term 'grind' [for what you have to do] mentally and physically more than any other surface."
Djokovic, a two-time Monte-Carlo champion, discussed at his pre-tournament press conference how the surface changes the tactics and style of play. On quicker surfaces, players rush to the first punch in a rally to try to seize control of a point. But on clay, the pace of the action is different.
"It can be very frustrating at times, because sometimes you just feel like maybe you can't make a winner, you can't make an easy point with your serve like you usually do on the other surfaces," Djokovic said. "It requires a tactical and definitely technical adjustment. The positioning on the court has to vary all the time. A lot of guys, including myself, who usually attacks the return on other faster surfaces, on clay I would probably be more optional there, maybe mix it up, go back from deep in the court, send a looping topspin, then try to get into the rally.
"It's a very strategic surface that requires a lot of strategic thinking and tactical adjustment."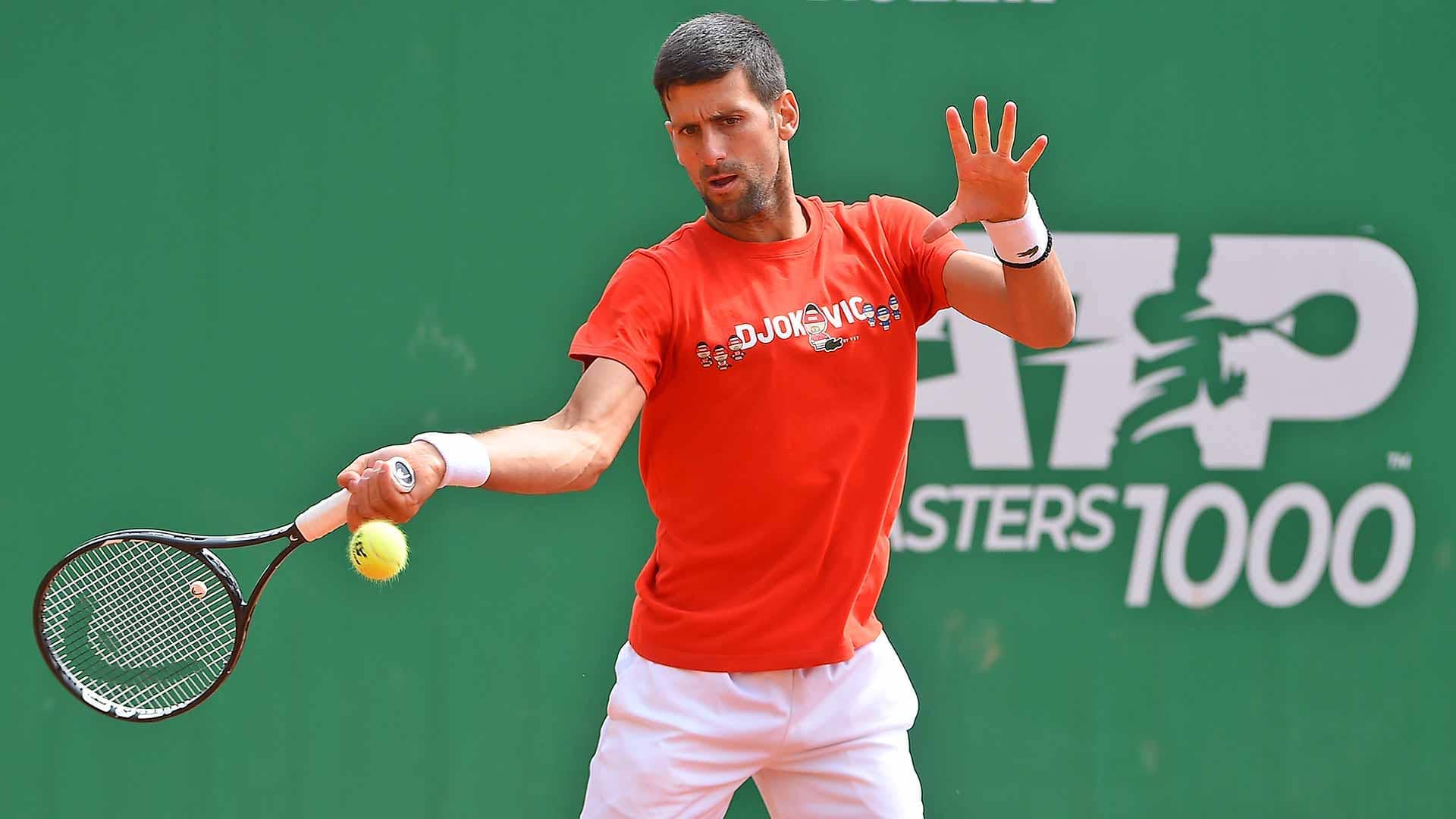 Photo Credit: Corinne Dubreuil/ATP Tour
Earlier in the day, second seed Daniil Medvedev spoke about getting dirty on clay when sliding around the court. But that's not always a bad thing, according to Djokovic.
"You do get dirty," Djokovic said, cracking a laugh. "It's necessary, I guess, in order to have success on this surface."
This will be the World No. 1's first tournament since he won his ninth Australian Open title in February. The Serbian, who also earned two victories for his country during the ATP Cup, is 9-0 on the season, and he is not concerned about going two months without a match.
"I have had some periods in my career where I didn't play a tournament for maybe a couple months, then came back," Djokovic said. "I don't think there is anything special I have to do in terms of preparation in order for me to feel my best on the court. I've been training quite a lot on clay.
"Here in Monte-Carlo actually where I reside with the family, it was convenient and feels great. I feel physically prepared."
Typically fans flood the walkways at the Monte-Carlo Country Club. But with no fans in attendance this year due to the COVID-19 pandemic, it has created a different atmosphere. Djokovic said that he misses having the fan's support and explained how their absence impacts the player's experience.
"You play the tournament at the club where you usually come to train. You still spend time outdoors walking around the club, which you don't have normally the opportunity to do because there's so many people, it's just impossible to walk around," Djokovic said. "Now you can actually go and check out some training sessions from other players or matches, just be outdoor on the fresh air, which is something that we are grateful for." 
Djokovic is excited to get going, and he will have to be sharp from the first ball against recent Miami finalist Jannik Sinner or 2017 Monte-Carlo runner-up Albert Ramos-Vinolas.
"Mentally I missed tennis [the] past couple months that I haven't been competing," Djokovic said. "I look forward to my first match."
Ahead of his third appearance at the Rolex Monte-Carlo Masters, Stefanos Tsitsipas discussed the importance of success during the clay swing to achieve one of his main 2021 goals: Nitto ATP Finals qualification.
The World No. 5 will make his first clay-court appearance in Monte-Carlo since his run to last year's Roland Garros semi-finals. Tsitsipas has achieved regular success on the surface in recent years, with at least one final appearance on the red dirt in each of the past three ATP Tour seasons (2018-'20).
If the Greek can replicate that form in the Principality, and throughout the remainder of the clay season, he will increase his chances of sealing a spot at the season finale in Turin.
"I'm fighting for the [FedEx ATP] Race to Turin," said Tsitsipas. "I'm trying to make as many points as possible… It is important for me to be playing a lot of tournaments prior to Roland Garros. Clay is a surface that I love to play and explore my game [on]."
Tsitsipas, currently in fourth place in the FedEx ATP Race To Turin, is happy with the transition he has made from the hard courts to clay. The 22-year-old has been focussed on his physical fitness ahead of his first match of the year on the surface.
"I've practised a lot of days on clay. I've been feeling well. My body is in good shape," said Tsitsipas. "Currently I feel like I'm working a lot on my physicality when I play friendly matches on clay. I think that's going to be the most important aspect in my game during the clay court season."
[WATCH LIVE 2]
Tsitsipas will be tested from his first match at the Monte-Carlo Country Club. The fourth seed will meet the winner of one of the standout matches of the first round between #NextGenATP Italian Lorenzo Musetti and Australian Open semi-finalist Aslan Karatsev.
When asked to predict who he will face in the second round, Tsitsipas backed Musetti, the youngest player in the Top 100 of the FedEx ATP Rankings. During this week's Sardegna Open, the 19-year-old defeated top seed Daniel Evans en route to the quarter-finals.
"I would go for Lorenzo Musetti. He has played plenty of matches on clay," said Tsitsipas. "I think he's getting in shape match by match."
Second seed Daniil Medvedev should feel comfortable playing at home in Monte-Carlo, right?
The Russian lives and trains in the south of France, and works with a French coach, Gilles Cervara. He took questions in English and French ahead of his fourth appearance at the Rolex Monte-Carlo Masters, where the 10-time titlist is seeking his first ATP Masters 1000 crown on clay. 
"[I'm] really happy to be here. I like the tournament. Played good once here," Medvedev said. "[I] can stay at home, which helps with all the bubbles and everything. [I'm] really lucky to be able to stay at home this week.
"It's very unfortunate that we won't have any fans, but now all the club is for us. It's definitely one of the most beautiful tournaments in the world right now."
Unfortunately, that's where the sense of comfort ends for Medvedev in Monte-Carlo. The Russian is famously averse to the terre battue, a fact that he was not shy about in his pre-tournament press conference.
"Honestly, there's nothing I like on clay," Medvedev said with a wry smile. "There's always bad bounces, you're dirty after playing. I really don't enjoy playing on clay."
That's not to say Medvedev hasn't been working hard to improve his game, or that he hasn't had any big results on the surface.
Nothing boosts confidence like defeating Novak Djokovic at a Masters 1000 event, and that's exactly what Medvedev accomplished in 2019 at this very venue. The Russian surprised even himself with a run to the semi-finals (l. Lajovic), his best result on clay to date.
[WATCH LIVE 2]
"After what happened two years ago, I know I can play well on this court," Medvedev said. "Every time I practise on clay, after I play my match, I try to do my best, but it's difficult for me."
Medvedev, who has yet to win a match at Roland-Garros in four appearances, revealed that adapting his game to clay has always been a challenge. For the Russian, a cerebral thinker on the tennis court, it's just as much of a mental puzzle as it is a tactical one.
"Mentally I think for me the most important is going to be to know that some shots that maybe would be winners or which I would win the point on hard courts, it's definitely not the case on clay courts," he explained. "You need to do maybe three good shots, one of which would be enough on hard courts. That's tough sometimes for me to understand."
Tactically, the Russian's game also works against him on clay. Whereas on hard courts, Medvedev has made a habit of finding a way to win even on his worst days by falling into his go-to patterns and leaning on his backhand, on clay it's a different story.
"If I play [on clay] like on hard courts, it's not that amazing with my flat strokes," he explained. "[I'm] working on putting some more spin, some more trajectory… All of this is tough because for nine or 10 months, I'm playing like I'm used to. Then I have to change it for two months, still keeping the things that I do well also. You cannot change [your] game completely."
Second seed Medvedev will be ready to give the clay another chance as he begins his quest for a maiden clay-court Masters 1000 trophy against Filip Krajinovic or Nikoloz Basilashvili. He has landed in 11-time champion Rafael Nadal's half of the draw. But with no points to defend during the clay swing, if Medvedev can find his footing he could challenge Djokovic for the No.1 spot in the FedEX ATP Rankings.